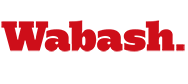 Powell/Callen Endow Scholarship
by Ryan Horner

April 22, 2020

Kathy Callen, like so many Wabash spouses, has learned to put up with her husband's Wabash eccentricities. John Powell '79 has a few; there's a special Wabash mug that no one else is allowed to drink from. Kathy kindly tolerates loud renditions of "Old Wabash" at parties and around the house. John enjoys ribbing every DePauw graduate they encounter, while Kathy, whose son Tom is a DePauw alumnus, is quick to come to the school's defense.

It might surprise people, then, to know that it wasn't John, or even his son Carson Powell '17, who was the spark behind the couple's recent decision to endow the Powell Family Scholarship. It was Kathy.

"I always felt that Wabash changed the course of my life," John is quick to say. Now Carson—who went from Wabash to medical school at Indiana University—has had the same experience, too. "But I'll credit Kathy as the one who suggested that we should think about doing something for Wabash."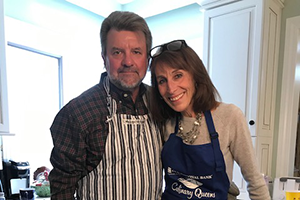 Kathy, for her part, laughs at this and defers to John's love for the school as the backbone of their decision. "Wabash has been a great source of pride and joy for John," Kathy says, "and now for Carson, too."
However, there is more to the story behind Kathy's desire to help Wabash students: helping students runs in the family.
"My dad was very committed to philanthropy towards education," she says. He went to Notre Dame on a scholarship, then fought in World War II before returning home to finish his degree. For the rest of their lives, he and Kathy's mother paid it forward, funding scholarships to give young people a chance.
"I think you absorb the way you were raised," she says. "He liked to tell me, 'There will be problems in this world, but you can always educate someone. You can help them pull themselves up.'"
Kathy and John have done their best to continue that tradition. "Kathy's done a great job of honoring his legacy," says John. "A scholarship was the most apparent way to give back to Wabash.
John and Kathy see it as an obligation they're happy to fulfill. "We're not going to be around forever," John says. "I think you have to seed the next generation to take over that responsibility and pay it forward."
The Powell Family Scholarship is awarded to an upperclassman who has demonstrated financial need and academic promise. The scholarship will be awarded for the first time in 2020.
John graduated from Wabash with an economics major before attending law school at Indiana University. He practices law at Shambaugh, Kast, Beck, and Williams in Fort Wayne, Indiana, and focuses his work on general litigation, domestic relations, and personal injury.
Kathy graduated from Indiana University before receiving her MBA from Miami University in Ohio. Kathy is the Senior Vice President of Community Engagement at Old National Bank in Fort Wayne, IN. She is active in the Fort Wayne community and serves on the boards of several foundations and not-for-profit organizations.
Their gift comes as part of the Giant Steps Campaign, which aims to provide Giant Value to future Wabash students by lowering financial hurdles to their success.