Giving Shelter
May 12, 2005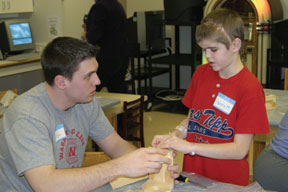 The Bachelor's front-page headline said it best:
"Student Senate and Community Unite for Habitat."
In an unprecedented vote, the Wabash Student Senate last spring contributed $20,000 from its budget to the local Habitat for Humanity.
Senior John Morgan got things started, requesting the $20,000 in two separate appearances before the senate.
"I wanted to do it because I feel indebted to the community," Morgan said. "It's a chance to give back."
Morgan talked with Wabash librarian and APO service fraternity advisor Larry Frye H'81, who is also treasurer for the local Habitat chapter. Soon the community had responded by raising a matching $20,000, and Blitzbuild 2004 was on.
For two weeks, dozens of Wabash students joined forces with Habitat volunteers to begin building the house for Tammy Howard and her family.
"It's a way to bring students together in a way other than the typical college sporting event," Morgan said. "It brings the students and the community together to do something that is going to be lasting."
"We're supposed to not only receive knowledge here, but apply it to the outside world," said Student Senate Secretary Tim Flowers '06. "What good are ideas if you can't put manpower and muscle behind them."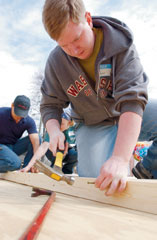 "It's a remarkable concern from the students for the community, spearheaded by a group of seniors who want to leave something behind," says Habitat's Family Selection Chair Jan Sears. "We are delighted to be part of that goal."
And though gratified, Frye was not surprised by the student effort.
"With student leaders like seniors Mark Dietzen, John Meyer, Tony Giaquinta, Rick Cantu, and others, APO has really taken off the last five or six years," Frye says. "This generation seems to have a heart for service."
The trend continued through the fall and into 2005, with Meyer bringing in more than $10,000 for Riley Children's Hospital through the service fraternity's second annual "Relay for Riley."
"We don't keep statistics on the number of students who do this kind of work," Frye says. And though he believes the work strongly fits the College's mission, he believes it "should never, ever be a requirement."
"They should do it because they want to do it, because they want to live humanely. We provide opportunities, and it's amazing how, when students take advantage of them, they so often say, 'Wow, I can do this,' and 'Hey, this is rewarding.'"
Photos: John Meyer '05 and a patient build a birdhouse together during APO's visit to Riley Children's Hospital to deliever their $10,000 donation. Lower left: Seth Ditchcreek '04 at work during Blitzbuild 2004.