Uncivilized
by Howard Hewitt

May 17, 2005

"With all the wealth in this country, people shouldn't lack shoes, food, a safe place to sleep. As long as they do, and nobody cares, we aren't civilized."

Scott Dreher '82 can't forget his first assignment for the San Diego Volunteer Lawyer Program.

He was given the case of "James," a homeless man owed money for distributing advertising flyers. The businessman promised the homeless worker $300 for the work. When James delivered the circulars and returned for payment, the business owner refused to pay and said, "Fuck you, sue me!"

"Aside from being thrilled at the idea of getting the opportunity to use the f-word in a court pleading, this really made my blood boil," Dreher says. "These homeless guys are defenseless, and for this rich businessman to do this was really galling.

"So we loaded up the guns and brought a fraud and unfair business practices and breach of contract lawsuit, a big legal beast, the whole nine yards. It was our own little 'fuck you!'"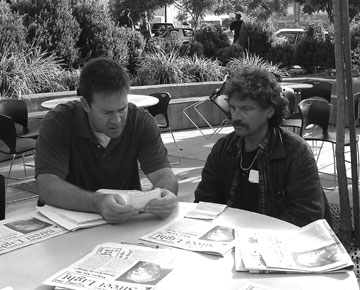 In the end, the defendant had to hire a lawyer and pay James $3,500.
"I remember giving the check to James-we took no fee and I paid the costs. There were tears in his eyes, that these big-shot lawyers would actually help him.
"That case really hit home to me-it made all the abstract stuff real," says the former Wabash classics major. "Lawyers have real power; they have the keys to the system. I liked using that power. It felt good to fight back for this guy. You can't buy that feeling with money."
More than 10 years have passed since that case, and Dreher is still fighting back.
As a leader in representing the homeless in San Diego, Dreher's firm and two other San Diego law offices filed a class action suit last November on behalf of nine homeless people who were issued illegal-lodging tickets on nights that social service agencies had no shelter beds available.
"The conventional wisdom is that, with the building of a new downtown baseball park and the corresponding commercial and residential development of the formerly-blighted areas nearby, the city and its cops have embarked on a process to sweep the homeless under the rug and out of the area," Dreher says. "In practice that means deliberately waiting until the coldest or the rainiest nights, then going to areas where homeless people commonly sleep and issuing dozens of tickets."
Dreher contends the October 27 ticketing was on one of the rainiest nights of the fall. Then, in early December on a very cold night, dozens of tickets were written again.
"The city denies this, but the numbers don't lie," Dreher says.
"The homeless are the ultimate underdogs. They have nothing. With all the wealth in this country, people shouldn't lack shoes, food, a safe place to sleep. As long as they do, and nobody cares, we aren't civilized."
The San Diego County Bar Association named Dreher its Community Service Award winner in 2003. He donated more than 350 hours of pro bono time in 2002. He is also a member of the San Diego Regional Task Force on the Homeless.
"Both of my parents were lawyers and they had always instilled in me that being a lawyer wasn't just a job, it was much more than being a businessman," Dreher recalls. "There's more to life than working, making money, collecting houses and toys. I grew up around other idealized lawyers, such as Atticus Finch and Perry Mason. Whenever someone needed help there was always a lawyer who would stand up and say, 'I'll do it,' without asking what's in it for him."
The ticketing case is slowly making its way through the courts. Dreher has used his time and skills to help the city's indigent and needy for more than a decade. But this case clearly leaves him outraged.
"In December, a business owner complained to the Centre City Development Corporation that homeless people lining up for the Salvation Army's food service 'might' leave trash around. So the CCDC forced the Salvation Army to cancel it," Dreher says. "It was the week of Christmas! Unbelievably cruel! The belief is that if life is made miserable enough for these people, they'll go away."
Photo: Scott Dreher reviews a case with client Paul Heimark. Photo by Jamie Riehl/S.D. Streetlight