Saving Biloxi
by Steve Charles

February 2, 2006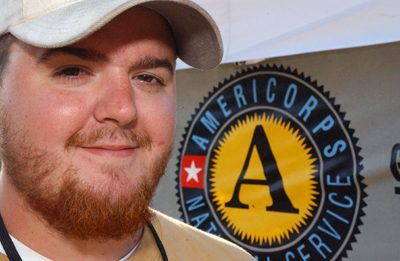 In September 2005, A.J. Lyman '05 joined the AmeriCorps St. Louis Emergency Response Team and was sent to Biloxi, Mississippi, to help with relief efforts in the aftermath of hurricanes Katrina and Rita. Lyman is one of a growing number of Wabash graduates choosing service work in AmeriCorps, the Peace Corps, Teach For America, and other organizations.
WM contacted A.J. at his post in Pass Christian, MS to find out how things were going so far:
WM: What was your initial reason for doing service work instead of entering the job market? Why AmeriCorps?
A.J. Lyman: I looked at going to grad school in religion, but then got bogged down with some personal stuff. I wasn't sure grad school was for me right away, and I didn't want to enter the "real" world right away, either.
Friends of mine had done AmeriCorps, so I looked at the different programs they had to offer. I chose the AmeriCorps St. Louis Emergency Response Team because of the variety of experiences it offered. We respond to natural disasters, fight wildfires, and do conservation work, all things I was very interested in getting involved in.
I thought briefly about Peace Corps, but wanted to stay in the States, and I had a lot more opportunity to choose exactly what I wanted to do in AmeriCorps.

Has the work been more difficult than you expected? More rewarding?
It has been very challenging. You cannot really put into words the level of devastation here. It took me a good four days to be able to look past the rubble and to do my job effectively. Also, the living conditions are not the greatest down here, but we manage.
Yet seeing the progress of the recovery effort, and where I've had a hand in it, is extremely rewarding. So is the gratitude of those I've helped.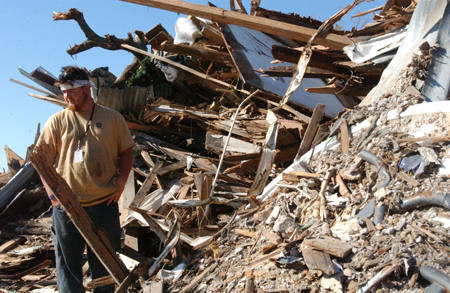 Has there been a defining moment of your work thus far?
In Biloxi, when Hurricane Rita was hitting the coast, I was in the Salvation Army warehouse with two other teammates. The warehouse had been damaged by Katrina, and the rain just started pouring in. So the three of us ran around this 300-yard-long warehouse throwing a tarp over everything, climbing up and down pallets for about an hour. Then we all grabbed squeegees and removed a good six inches of standing water from the entire warehouse.
After the rains had stopped, our contact with the Salvation Army told us that the three of us had saved 80 percent of the goods there. He said that we'd kept Biloxi alive, because the Salvation Army was the only relief effort in place. That was a great feeling.
Later, I was helping a lady who had lost four members of her family to the storm. All we could do was help clear her yard of snapped trees and brush, but even though she'd lost so much, she was still appreciative that people had come to help her.
That moment pretty much changed my outlook on life. Even the small amount of help I gave a lady made a big difference to her. It's easy to get hooked on a feeling like that.

Contact Lyman at aj.lyman@gmail.com

Photos by Brock Johnson '07