Just a Taste?
February 2, 2006

Writing for the Mayor

They got there by different paths—one funded by the College's Dill Internship, another through word from a family friend—but juniors Elliot Vice and Adam Kirsch found themselves in the same cubicle this summer. Both worked for Indianapolis Mayor Bart Peterson. Both were mentored by Deputy Mayor Steve Campbell '92 and Assistant Deputy Mayor for Neighborhoods Eugene Anderson '83.

Both say their days with Peterson were career-shapers.

Vice recalls a town hall meeting with neighborhood leaders that gave him a look at direct democracy in action.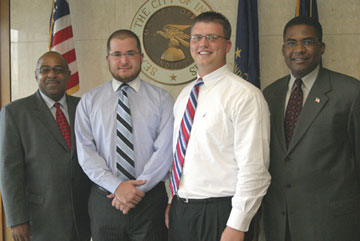 "These men and women voiced their opinions on issues that directly affect their communities, and the mayor's responses were direct and sincere," says Vice, who hopes to pursue a career in public service or government affairs. "The theme of the day—of the summer—was that clear and direct communication is absolutely necessary if government is to effectively serve its constituents."
Communication was the focus when Adam Kirsch spent the day at Peterson's elbow, helping the mayor and advisors prepare the historic first speech on the combined city/ county government budget.
"The mayor's special assistant wrote a first draft, and that's what we started with at 8 a.m. on the day the speech was to be delivered," Kirsch recalls. "The draft changed dramatically at least five times.
"We were having trouble with a particular sentence that read well, but just didn't sound right spoken aloud," the Wabash political science major and political director for the College Democrats of Indiana says. "I suggested different wording, my wording got put in, and I heard it on the TV news that night!
"I got to see how government really works," says Kirsch. "And I saw that, when it comes to quality of life, local politics is what really matters. As I look at my own career, it's no longer a choice for me between real politics and local politics—local politics is real politics."
Vice came away equally inspired.
"This internship helped me realize why people who work in public service are so passionate about what they do."