Wabash Men in History
by Jon Pactor '71

February 3, 2006

"Piggy" Lambert: Mentor to John Wooden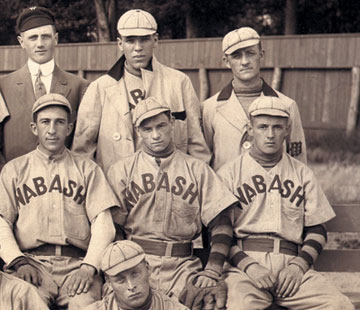 Ward "Piggy" Lambert '11, legendary Purdue University basketball coach, was the wizard behind the Wizard of Westwood.
Lambert coached Purdue from 1917-1945 and achieved an overall record of 371-152. He won 11 Big Ten titles and ranks second behind Bobby Knight in Big Ten winning percentage and third in conference wins behind Knight and Gene Keady.
Lambert was a pioneer of the fast break. He developed it; he used it; he taught it to coaches. Modern fans take the fast break for granted, but it was one of the most profound developments in the game.
At Purdue, Lambert coached and mentored Johnny Wooden, the Wizard of Westwood. Wooden was team captain of Purdue's championship teams and was the University's first three-year consensus All-American. When he graduated in 1932, he had to choose between becoming a high school English teacher or a pro basketball player. The teacher's salary was then, like now, less than a pro player's. Undecided, Wooden sought the counsel of his coach.
"Why is it you came to Purdue?" Lambert asked. "Was it to become a professional basketball player or to get an education?"
"An education," Wooden replied. The question made the decision, and Wooden was on his way to becoming arguably the greatest college basketball coach of all-time.
Lambert had "the greatest influence on me both from the standpoint of playing and coaching," Wooden said. "Coach Lambert had a fetish for details."
Proof for the last statement is found in Lambert's Practical Basketball, a 1932 no-nonsense tome of 243 pages about every aspect of the game. It features numerous drawings and photographs with Johnny Wooden and other Purdue players. He dedicated the book to "Ralph Jones, My Coach, and to the players who have given their best to me." Jones coached Lambert at Wabash.
Lambert devoted an entire chapter to the topic of the coach as a student of psychology. He wrote that "in close contests of evenly matched teams, the game of basketball is a mental fight." He stressed that the "coach must be a teacher of good habits" so that "players perform them in time of stress."
In 1945, Lambert was named as the country's outstanding coach in a nationwide poll by Esquire magazine. He was the commissioner of the National Professional Basketball League from 1946-1949.
As a Little Giant, Lambert stood 5'6'' and weighed 120 pounds. According to the June 1908 Wabash, he got his nickname "from the way he ate up everything in sight on the diamond" while playing shortstop on the Crawfordsville High School baseball team.
Purdue named its baseball field and its track field house after Lambert. He's enshrined in both the Indiana Basketball Hall of Fame and the Basketball Hall of Fame in Spring-field, MA, where a long banner depicting him hangs among many honoring the all-time greats.
Photo: "Piggy" Lambert (center) and teammates from the 1909 Indiana State Champion Little Giant baseball team, which was led by another Wabash coaching legend—Ralph Jones.
Read Lambert's Basketball Hall of Fame biography at www.hoophall.com/halloffamers/Lambert.htm