The More I Learn the More I Want to Know
by Howard Hewitt

February 26, 2007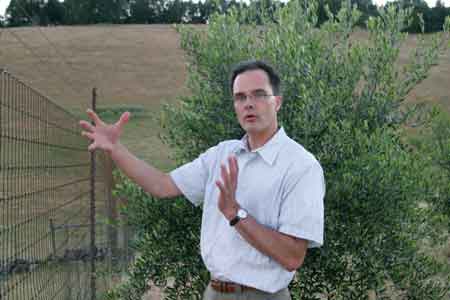 An Oenophile will tell anyone listening that wine is stimulating to the intellect. Another might talk about wine's nuances and sophistication. A real wine geek will detail a fine wine's terroir.
Stephen Pavy '81 is such a man. He's been a scholar, Yale Divinity graduate, college administrator, and software expert, but he's found nothing as interesting and challenging as fermented grape juice.
Pavy lives atop a mountain overlooking the Sonoma Valley and works at one of Napa Valley's premier wineries. He left his profitable software job and personally took a hand in expanding his now 6,600-square-foot home. Then in June 2006, he became manager of retail operations and wine education for Joseph Phelps Vine-yards—one of Napa Valley's most honored wineries.
The class agent and summa cum laude Wabash grad has traveled the world and the great wine regions.
"But there is something about this particular place," Pavy says at his dining room table in Sonoma. "It's the daily smell of the earth, and understanding how the temperatures and the microclimates and the terroir work together on this property. I'm finding out how that's expressing itself in wine. That is fascinating to me. It's mysterious."
A small vineyard outside his home has allowed him to make a fine Sauvignon Blanc and an evolving Bordeaux blend. Pavy's efforts have not gone unnoticed. He swept "best of" honors for both white and red wine at the 2006 Valley of the Moon Dilettante Enological Society home winemakers' California competition. He also won best of show.
"It shocks me to think I can actually bring fruit in from a plant I've planted on the hill outside and then bring it through to a point that I can drink a finished product you call wine."
Pavy, a native Hoosier, knows his father would laugh at such romantic notions of the land. "He grew up on a farm and that wasn't mysterious to him at all. But for my generation that grew up on TV dinners, fast food, and fruit from a can, it's different."
His winemaking effort has piqued his intellectual curiosity in a way a normal job could never accomplish.
But Pavy has rarely held a normal job. The Wabash Phi Beta Kappa, Lilly Scholar graduate earned a master's of divinity from Yale. His career path took several turns before he was ordained in 1985 as a Deacon of the United Methodist Church. He ministered in the northeast for a few years and then moved his career into education administration. He served as assistant dean for administration at the University of Virginia's School of Archi-tecture. He then moved to Chicago and worked for the University of Chicago's Disciples Divinity House. The university then moved him into administration of its new $100 million-plus budget for its Biological Sciences Learning Center and Knapp Medical Research Center.
But a personal inner struggle and two friends changed his life and led him to California.
For years Pavy had struggled with "concealment," as he explains it.
"Rather than truth in the way so many of us moderns think of it—facts, scienti-fically verifiable—I think of truth as 'alethia,' which for the Greeks (and for Robert Frost, who really taught me this) was 'the knowledge of the things we should not forget or should always remember.'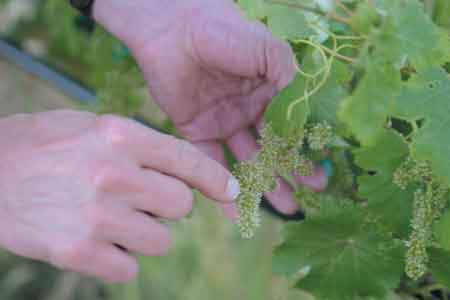 "So for me, telling the truth is about not wanting to conceal anything and not wanting to forget all that I've learned in my life. So many times I have had to tell the story of my life with an ear for concealment. I no longer do that."
One truth that Pavy had concealed is that he is gay. He says he felt conflict and intellectual turmoil working for The United Methodist Church. Yet even after leaving the church he struggled with the tension between wanting to be successful and thus keeping his private life hidden against the desire to be truthful about who he was. It was at that time he met two men who were thinking of moving to California. One of the two was a physician who had been working in medical software technology, work that served as a passport for the three to make a bold move west.
Despite reservations about moving to the coast, Pavy fell in love with the Bay Area. He jumped into the high-tech field, working as director of support services for Healthvision Corp and as a consultant for various healthcare information companies. Pavy was a senior development manager for Oracle Corporation when he decided to take time off to oversee the expansion of the Sonoma mountaintop home he now shares with those two Chicago friends.
While explaining his various career stops, Pavy halts the chronology to discuss his Bordeaux red wine.
"It's still pretty tannic; the toast notes and vanilla are from the barrel. It's still pretty strong and disjointed, so there needs to be some bottle integration. This is a wine that can set down for five to ten years pretty easily. There is real good fruit in it, some spiciness, nice acid—but it all needs to come together."
It's not difficult to see how Pavy's passion changed from his philosophy major at Wabash to divinity school to education and now wine. But he brings that passion to everything he does. When he left Oracle in 2001, it was months before 9/11, and the tech bubble was at its peak. Selling stock at that point allowed him time to take horticulture and wine appreciation classes and to visit all of the area's wineries he hadn't previously had the time to enjoy.
Then, in 2004, with the house nearly complete, he took a weekend job with St. Francis Winery in the tasting room. His career and reputation in wine took off. The Phelps job he took in the summer of 2006 is a much-sought-after position that was a perfect fit for Pavy's interests and skills.
He had considered a position with St. Francis in wine production, but couldn't ignore the lure of the prestigious Phelps job.
"I had this chance to work for probably one of the best wineries in the world. It's a remarkable opportunity."
The path to good wine started in Chicago when he would enjoy wine with his new friends. He had the usual beer and "terrible stuff" in college—"jug wine and cheese at Yale"—but quickly developed a taste for the nuance of fine wine. He learned winemaking skills from a neighbor who makes "hobby" wines and the St. Francis winemakers and took the necessary classes to grow his own grapes and make his own wine.
He's not sure exactly where that path will take him. But he knows he'd like to turn his small vineyard into something bigger. As a home winemaker he cannot sell his wine. He drinks it and gives it away. But he sees the possibility of becoming a commercial winery as intriguing.
"I don't want to do a big kind of thing, but a small one that is pretty boutique, high-end," Pavy says. "Maybe we could give people a chance to come and be involved in whatever is happening in the vineyard or the winery that week."
And his home plays into those plans. A key part of the expansion was a sizable two-bedroom guest wing.
"Perhaps I'd let people stay in the guest rooms and sort of use this as home base and do some high-end tasting in Sonoma or Napa," Pavy says. "They could enjoy the art, the cheese, some of the great restaurants. There are great driving trips to the coast and through the mountains. Basically, I would offer a little bit of eco-tourism or agro-tourism."
He flirts with the idea of a convergence at his home.
"Not a spiritual retreat center, but a place people can come for a lot of different reasons, including just wanting some rest and relaxation," Pavy says. "There's lots of my life that actually intersects with that, with my time in the monastery, and even my time in the ministry."
Pavy enjoys sharing his story and life path and shares it openly. He's held interesting jobs, but now has found a vocation and avocation that hold his interest.
"I've always been a voracious learner," he says. "But this is one I can't imagine getting bored with. The more I learn about wine the more I want to know. It's part craft, part science, part art—and there's a lot of mystery."