Daughters: Faith
by Scott Cougill '87

December 13, 2007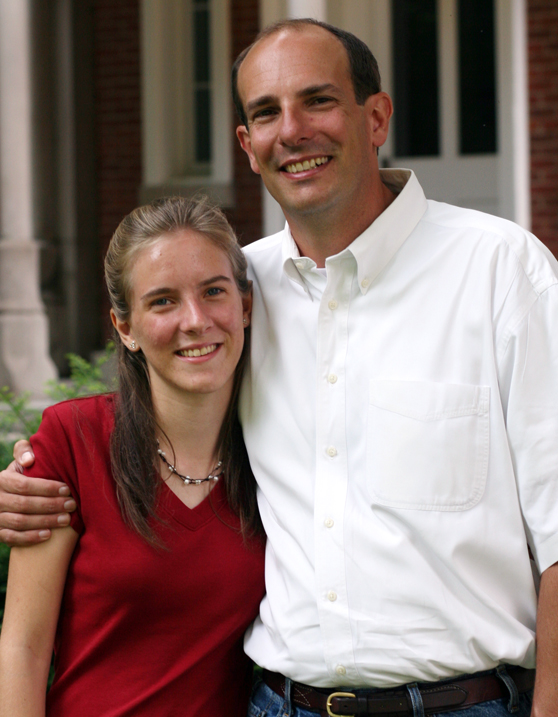 Last July the daughter of my good friend Jim Amidon '87 was badly injured by a horse. Samantha is making a full recovery, but her accident reminded me of the fragility of life, how quickly it can be taken away, and how I might have lost Faith, my own and only daughter, when she was 14.
She is the firstborn of my children. My wife, Cathren, and I had driven to the hospital expecting to name our child, "Lindsay." But as Cat endured a long and difficult delivery, the name just didn't fit. During what seemed to us a miraculous birth, we were amazed by God's power and love. We knew our daughter's name was to be Faith.
Thinking back on her early days at home, I remember how weird it was to have a little girl in the house. This was something very new to me. I grew up in a family of all boys, my mother is an only child, and my father
has six brothers and only one sister. (You can see why going to an all-male campus like Wabash was not a big concern for me!)
While I did not know what to expect with a little girl in the house, I really enjoyed it. Faith and I played and roughhoused, and I took great pleasure in our time together.
But as she grew up, I was challenged by the realization that I would greatly influence two of her most important relationships. My words, my actions, my affection, how I modeled being a husband to my wife, even my hobbies would shape how Faith viewed the role of husband and father in her future family. So, as she grew up, I wanted Faith to experience the best of what it means to be feminine while witnessing the best of what it means to be masculine.
When Faith was about four years old, I came to understand that I would also strongly influence how she viewed God, her Heavenly Father. I believe that our experience with our earthly fathers greatly influences how we view and approach God the Father. And as I reflected on that back then, I realized I needed to live differently. Yes, I was a being a good provider. But mostly I was gone at work and "gone" at home—not really listening thoughtfully to Faith or her mother.
So I changed course. I changed jobs. I spent more time with my family. I think I've made progress in truly being there for my daughter. Small steps, but good memories. And though we have taken a few steps back from time to time, my relationship with Faith has grown stronger over the years. It got even stronger after she entered her teenage years and we began to live overseas.
One of our best father/daughter moments came when we were living in Melbourne, Australia. We spent two weeks together on a mission trip to a remote island of Samoa in 2003 with my brother Drew, Wabash Class of 98, and a team of doctors from Australia, ministering to young people and adults in very poor, remote villages. Most of these people had never seen a doctor. I remember watching Faith lovingly approach a girl named Anne who had a nasty growth on her leg but was too afraid to see the doctor. Faith asked Anne if she would talk to the doctor as long as Faith stayed with her the whole time. Anne agreed, and the powerful antibiotics she received to help fight the infection probably saved her leg.
Not long after that, though, Faith was the child in danger. Our family was in Indiana preparing for a move to Chiang Mai, Thailand, when 14-year-old Faith was diagnosed with a tumor. We were shocked; she seemed perfectly healthy. The only symptom had been a short, mild seizure she experienced one day in the car.
After many tests and scans, the neurologist told us Faith had a brain tumor about the size of a golf ball in a very delicate area adjoining her speech and motor areas. She needed surgery. The doctors warned us that Faith could lose language and motor function as a result of the surgery; she could lose her life if they didn't operate.
To make things more difficult, instead of the normal, "simple" brain surgery, Faith needed four or five hours of brain mapping done during the procedure. That meant she would need to be awake. She'd have to lay completely still with her head in a vice, awake and able to talk with the surgeon.
As Faith went into surgery and we sat in the waiting room, we wondered what our little girl would be like after all this cutting of her brain. We turned to Scripture for comfort: "...we also rejoice in our sufferings, because we know that suffering produces perseverance; perseverance, character; and character, hope. And hope does not disappoint us, because God has poured out his love into our hearts by the Holy Spirit, whom he has given us."
We were not expecting the news we received from the neurosurgeon after the surgery. He met us in the debriefing room. He was giddy. He asked my wife to show him the "whoo hoo" dance—a silly dance Cat does with our kids when something really goes well. He said that when he had told Faith that he was finished, she shouted out, "Whoo hoo," and told him about the dance.
Next, the anesthesiologist barged into the room. Both doctors were amazed at how well our little daughter had done—so much better than they had expected or had ever seen. The surgeon even had some digital photos of the surgery. One showed our Faith, bravely giving him the "thumbs up" sign.
Faith appears to be completely healed from the surgery and, after a brief loss of speech and movement, is "perfect," as the surgeon likes to say. We did move to Chiang Mai, Thailand, just two months after the surgery, and still live there today.
Now, as Faith is starting to look at colleges and the likelihood of attending school in the United States while I am overseas in Thailand, I realize time is short. I need to make the best of that now. The question is, What am I going to do about it?
For starters, I'm going to ask my daughter to go out for breakfast with me tomorrow. Another small step, another great memory.
I believe God uses our father/daughter special times, and our father/daughter sufferings, to grow us individually, grow us closer together, and grow Faith's daughter/Father relationship.
I watch God's love grow stronger in Faith, and I take pleasure—I rejoice—in whatever time we may have.