Marks of Distinction!
by Howard Hewitt

March 24, 2009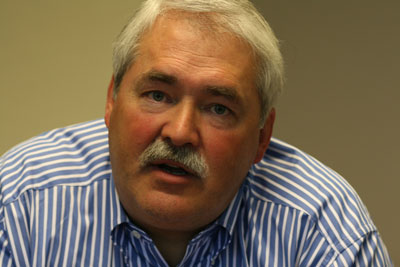 Bob Chamness had a hand in one of the banking industry's biggest changes of the past century and now helps guide the world leader in digital watermark technology.
PORTLAND, OR—Robert Chamness '75 has exclamation points on both ends of his career.
He had a hand in one of the banking industry's biggest changes last century and now helps lead a company developing cutting edge digital watermark technology that protects copyrights and identities and "enables commerce."
As a rookie lawyer at Baker and Daniels in Indianapolis in 1978, Chamness assisted on the landmark Marquette National Bank v. First of Omaha Corp. case. That Supreme Court decision allowed banks in one state to offer credit card services anywhere in the country at rates they determined, all within the confines of existing law.
Chamness calls the ruling "the granddaddy of consumer protection statutes."
The result was widespread availability of credit cards and credit that consumers enjoy today. Chamness found his niche and carved a legal career in finance.
"There's something noble about the finance industry," Chamness says. "When properly managed, it's one of the greatest promotions for the middle class that's ever occurred in the history of mankind. I spent 15 years doing that."
Along the way he developed a national reputation as a finance expert. From Indianapolis he moved to Washington, DC to continue legal work in finance. There he was approached by a San Francisco law firm that wanted to expand into banking. Chamness joined them, but it proved a bittersweet experience.
"The firm ultimately collapsed because of the three major industries they were involved in—thrift, real estate, and corporate finance," he explains. But as he helped close the firm, he learned a critical lesson about doing business ethically. The firm honored all its commitments and dissolved without litigation, Chamness is quick to point out.
"We came to good compromises and I'm proud of how we behaved. You seldom see that anymore."
A sought-after free agent, Chamness interviewed at a prestigious New York firm that proved too stuffy for his tastes—attorneys there didn't even carry their own coffee; a secretary had to deliver it to their desks.
Chamness chuckles as he relates that story.
"But the more I thought about the law practice, the more I thought it was less and less fun," he recalls. "Billing rates were climbing astronomically, the expense structure was out of control, the bidding for entry-level talent was out of control, and the client base was shrinking."
So Chamness went to work at Concentrex, a Portland provider of banking industry software. As executive vice-president and general counsel, he helped shepherd Con-centrex through a period of incredible growth.
"We were very aggressive," he says. "We grew that company over a seven-year period from $17 million to about $135 million in sales. Our bottom line was growing from 20 to 30 percent a year. Our cash flows were growing close to 50 percent a year."
Ownership decided to sell the company while its value was peaking. The sale was tough on him emotionally.
"You sell because it's the right thing to do. That was my baby. I had grown the thing. I had personal relationships with hundreds and hundreds of employees."
So he was retired at 47. His wife made it clear she wasn't interested in moving again. "I told Sandy it looked like I would have to find a job somewhere else. She was just as sweet as can be. She said, 'I followed you from DC to San Francisco and then to Portland. I love you dearly. I'll follow you anywhere in the city limits.' I may be a little dense, but I took the hint."
While figuring out his next business move, Chamness assisted the Portland State University Foundation and set up a foundation for his two children's middle school.
After 18 months he joined Digimarc as general counsel. A producer of driver's licenses and voter ID cards with digital security, Digimarc is the world leader in digital watermark technology and applications.
Chamness is usually enthusiastic, but he scoots to the edge of his seat when the conversation turns to digital watermarking.
"It's a form of marking technology that operates by making changes at the pixel level of digital media of any sort. It can be broadcast, printed on a hard surface, a CD, DVD, any form of media can be watermarked. The signal is not visible or audible; it can be detected by a digital reader that knows what it's looking for."
The technology can be used to protect currency. The movie industry uses it to help prevent piracy. Professional photographers visibly watermark their work for security. When LIFE magazine posted its photo archive on Google, they protected the work with Digimarc technology.
The potential for growth is unlimited, Chamness says. The technology is moving into cell phones and similar devices. "The phone can detect a watermark in a magazine and automatically take you to that Web site for more information.
"You're always looking for new applications for the technology, and to some extent we're a field-of-dreams company. We like to think of various ways in which we can help protect people's rights to their property, but more importantly how to enable commerce."
Chamness is as excited about the company and the people he works with as he is the cutting- edge product.
"I've become a big believer that values-based companies are the ones which will continue to survive and thrive. Companies which don't have the moral compass that strong values provide ultimately fail. Until values are adopted, articulated, and lived from the top down, the company has no moral compass. It will hit the rocks.
"I find my role sometimes cheering, sometimes reigning people in, but it's always exciting. You run into so many people in constant conflict between their need to make a living and the life they're living."
The Turkey Run High School graduate says his formative years in rural Indiana and his Wabash College education contributed to his own moral compass.
"I needed rigor. I needed high expectations. I needed to learn how to perform under a microscope. Wabash just felt so at home. Wabash has a true focus on preparation. It's something I don't see in other colleges. I'm so grateful for all the effort the College made to help me be prepared to do something.