Winter 2009: Alumni Gallery
by Howard Hewitt

March 24, 2009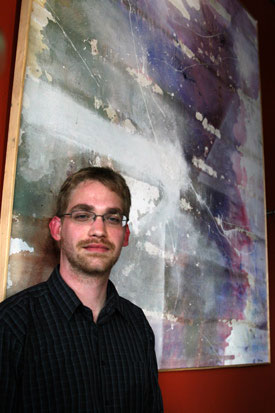 Nate Clark '03 knew it was going to take a big move for him to make it as an artist, so he left his Illinois home and headed to Portland.
"For young people who are concerned with being hip, Portland is a Mecca," Clark says. "As a secular liberal progressive, it feels like home out here to me. I decided it would be a great city to try out."
The move seems to be paying dividends. He plays guitar, bass, and upright bass in five different bands ("The other love of my life is music."). And he's beginning to make his mark as a young artist. He had a major showing of more than 30 pieces last summer at Hopworks, a Portland hot spot and brewpub.
Clark defines his art as "exercises in composition with particular attention to the accident." He was heavily influenced at Wabash by Professor Greg Huebner H'77 and by a visiting Japanese artist, Rikuo Ueda. Rikuo uses mechanical devices to create art. He has used wind to guide brushes across canvas.
"I thought I had control over what I do and Rikuo sort of blew that notion apart for me," Clark says. "After I left school it became clear to me how much his art influenced mine. In a sense his process is sort of making marks through the medium of the wind. It raised a lot of questions for me about why we choose to make the marks we do."
Clark has participated in the Portland Round, a two-hour show with musicians, poets, and an artist or two
painting during the evening. "It's through these things that you develop a sense of community. I can share and develop ideas. I feel I have been very successful out here."