A Catalysts for Inspiration
by Howard Hewitt

March 24, 2009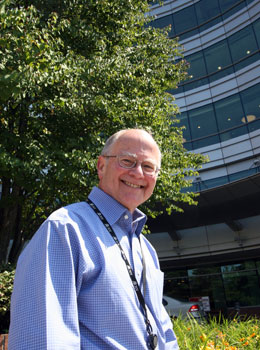 SEATTLE, WA—How do you measure the impact of one man's life?
What words apply to a man who has saved hundreds, if not thousands, of lives? What if that man trained hundreds of others to do the same work?
Dr. Bob Witherspoon '65 has lived such a life. His reach goes beyond the leukemia patients he's treated to the hundreds of doctors he has helped train in the oncology field.
Witherspoon is the medical director of the Transplant Clinic of the Seattle Cancer Care Alliance within the Fred Hutchinson Cancer Research Center. The cancer treatment program is part of the University of Washington Medical School.
"When I started there were no cures for leukemia," Witherspoon said. "Well, we learned that bone marrow transplant is a cure. You can't quite say that yet, unfortunately, for lung cancer or colon cancer. We're in great need of things there.
"I've had the great fortune to work in a field where we've gone from not being able to cure these people to being able to cure them."
Witherspoon is a man of reflection, bow ties, and music. He's also a man passionate about caring for his ill patients.
"To be able to help and understand what they're getting into in a clinical trial, and then help them through it once they have started the treatment, and then see the outcome…that's not a bad life to have. And I'm so glad I've been able to do that."
Witherspoon tears up as he reflects on his career, then chuckles through the difficult moment. He says he never becomes that emotional talking to a patient and he certainly didn't expect to do so in an interview.
Dr. Witherspoon has been honored for his patient care. It's his trademark among his colleagues.
Nurse Manager Aleana Waite puts it this way in a recent Hutchinson newsletter: "Bob is dedicated to working with patients and their families as partners. He's always willing to take the time to educate, to help patients understand their illness or treatment."
"I really try to see what is inside that person and realize this is a very big moment for them, and they're going through it for the first time. I'm not in it with them," Witherspoon says. "I have seen a lot of it before and I'm bringing my experience to help them figure out what to do. Sometimes there is good news I can bring, and sometimes there isn't."
When the news is bad, he helps the patient deal with it.
"There is a person with a spirit sitting there. I just try to feel what that is and try to figure out how I can help them."
Witherspoon has plenty of reasons to be proud. His 30-year-plus career is filled with important research, awards, and accomplishments. It all started with Wabash College, Baylor University, and an association with one of the past century's leading medical researchers.
Witherspoon worked with Dr. Don Thomas, who won the 1990 Nobel Prize in Medicine for discovering that bone marrow transplants could cure leukemia. Witherspoon succeeded Thomas as director of the transplant clinic.
"My particular niche in the transplantation area has been how the body's immunological system recovers after they've had these transplants," Witherspoon says.
The diminutive doctor with the omnipresent smile and pleasant demeanor describes his research with a matter-of-fact attitude. But he gets excited when analyzing his impact.
"People might imagine that there are repetitive aspects to being a transplant physician," Witherspoon says. "But the person who is receiving your care is always different. It's the patients that draw me in. Each one is a new catalyst for inspiration."
Helping young doctors work with patients is another source of Witherspoon's satisfaction. He says medical school is a tough environment and too many times young doctors are not given praise.
"We have to train young doctors to take the hard knocks and to take the hard questions at meetings. We focus a lot on their ability to do that, and there is a lot of criticism meant to make them better. But we're a little bit shy to tell them what a good job they've done."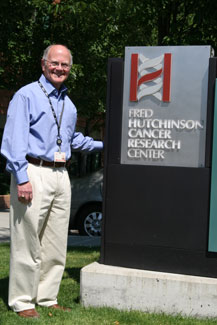 Witherspoon goes further, adding that many of his colleagues aren't good at addressing patient needs. He knows there are times when young doctors look at him as a mentor, even when he doesn't realize it's happening. That makes him even more conscious of his demeanor and treatment of every patient as an individual.
"You want to see young doctors have confidence in themselves, but also to have an ability to express sensitivity to a patient's concerns and needs. Nowadays in medicine you have to work with people to get them to understand something. It's not the captain of the ship telling everybody what to do any more. It might have been that way when I was a kid, but the days of the doctor telling everybody what to do and everyone else is an underling has been gone for a long time."
"What perhaps distinguishes Bob is how well he works with the entire care-giving team, including our fellows, physician's assistants, nurses, and support staff," says Dr. Fred Applebaum, who in 2003 presented Witherspoon with the Ali Johany Prize for excellence in patient care. "Providing cutting-edge care for complex, sometimes very ill patients in a research environment is not an easy task, and it takes many individuals, each with his or her own set of skills, to accomplish this. One of Bob's great skills is bringing these individuals together to accomplish the task at hand."
Witherspoon says he has an advantage at his clinic most primary-care doctors do not enjoy. Patients already know why they are coming to the famous cancer treatment center. Witherspoon schedules an hour and a half for a consultation. The added time allows Witherspoon to talk about the treatment and the options, but also seek out any hidden fears or concerns.
"I think asking the patient what's on their mind is really important."
That kind of one-on-one time with his own pediatrician in Gary, Indiana is what inspired 11-year-old Bob Witherspoon to become a doctor. He says he liked going to the doctor as a child and wasn't hesitant to ask questions.
Witherspoon speaks about the profound impact of his education and he credits, among others, the late Wabash Professor of Biology Tom Cole '58 for sparking his interest in science. Witherspoon selected Baylor for medical school and because he could also earn a master's degree in science there.
He headed off to Seattle to finish his training, then served two years in the Army before returning to the Northwest.
After 30 years of training doctors, caring for patients, publishing research papers, seeking federal grants, and giving conference addresses, he plans to cut back in 2009.
And true to the liberal arts student he is, he wants to pursue his out-of-the-office passion—music.
Witherspoon sang in the Wabash College Glee Club and played the French horn. About a dozen years ago he rediscovered his French horn and started playing again. He takes lessons and plays in a community orchestra. He wants to get more serious about his music in semi-retirement.
He's also part owner of a sailboat, has his pilot's license, and is fascinated by language. He took German at Wabash but has since developed an interest in the Spanish and Japanese languages and cultures.
He credits his liberal arts education for rousing those interests
"I wouldn't recommend a bachelor of science degree for anyone who wants to become a doctor," he offered. "Think of all the exposure there is in the liberal arts to political science, history, and philosophy. What did philosophers do when they were looking at the heavens trying to figure out how things work? That's the route of science. I'm glad I have that appreciation of the liberal arts."