Voices: Ciao, Bella
by Kim Johnson

May 9, 2011

(Editor's Note: Kim Johnson covered the experiences of alumni and faculty for the Wabash Web site during last year's Wabash Alumni Trip to Italy. WM asked her to write her personal reflections from those two weeks.)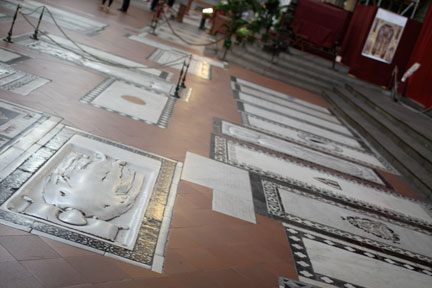 Life has taken me fewer places than many. And for a long time I was okay with that. But lately I have been itching to go any place else. Don't mishear me; I love Crawfordsville. I love Wabash. I love being close to family. And I love all I have at my fingertips in every direction from here.
But I also love to travel.
I married a man, who, like myself, has a liberal arts degree. Unlike myself, David valued his liberal education while he was still in school. He has a penchant for history and, because of that, current events. Me—neither. I suffered through history classes and did what I had to do to keep my grades up, but I took the "memorize and regurgitate" approach to most of my core liberal arts course work.
As a student, I rarely explored the unknown. I sometimes struggle to understand my own culture, let alone the cultures of people in other countries. When I met David I started to appreciate what I had let slip through my fingers as an undergraduate. When I began working at Wabash, living and breathing liberal arts every day, I longed to go back to school again and do it right.
So when I was offered the assignment to travel with a group of alumni and friends of the College for two weeks in Italy with Professor Bill Cook '66, one of the world's greatest experts on Renaissance Art, I jumped at it. My job: take pictures and tell the story of our journey on the Wabash Web site.
I called David and told him he had to come with me. I didn't care if we had to sell my car to afford it; he was coming, too. This would be our first trip out of the country together, and I couldn't wait to experience this new place and people with him. I couldn't wait for him to meet Bill, who can synthesize a bundle of information and turn it into a cohesive thought faster than I can tie my shoe. Just like David. I was eager to hear the conversations those two would have.
There was just one problem. In the 20 months since her birth, I hadn't been away from our daughter, Paige, for more than two nights.
"How am I ever going to leave that face for two weeks?"
But how could I not go to Italy?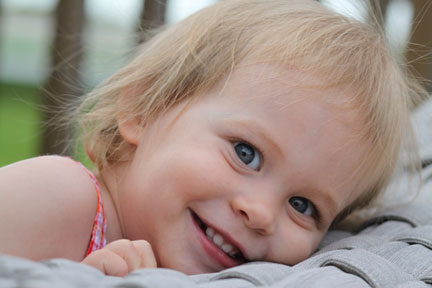 From the moment I saw my daughter's tiny body arrive in the world I knew I wanted her to have every experience possible to explore, to gain an appreciation for all people, and not just those "like" her. How could I teach her to be adventurous and to learn about as many cultures and people as possible and not do the same myself?
So we told Paige that Mommy and Daddy were going on a "work trip," and that she would be going on vacation to Grammy and Papaw's house. We bought her a new pink backpack and added some cars, ponies, a coloring book, and a blank journal with a felt cover and flowers that she still calls her "Italy Book." I left cards for my parents to mail to her every few days while we were gone, and we planned the dates and times we'd talk with her on Skype. I missed her already.
Then almost before I knew it, our bags were packed, it was 6 a.m. on June 12, and we were standing in front of the Chapel about to climb into a Wabash van bound for Italy. A little more than 24 hours later we pulled up to the city gates of Siena.
There's nothing like a trip to a new place to wake up the senses, and in Italy my brain was firing on all cylinders. I still salivate when I smell roasted garlic. We ate a lot of exquisite food—Florentine steak, fresh pici and pappardelle pasta, wild boar sauce, prosciutto, bruschetta, and gelato (mine strawberry—every time but one). I'm not a big wine drinker, but I enjoyed every wine we were served in Italy, especially the Brunello di Montelcino. The geraniums and petunias in the window boxes were radiant and overflowing with fragrance as vibrant as their colors.
I wanted to paint the countryside, the hill towns, the window boxes. My camera seemed inadequate to capture the richness of the silver olive trees, green grape vines, and the golden fields of grain. Not to mention the artistic masterpieces we saw: Michelangelo's Pieta, the Basilica di Santa Maria del Fiore (Florence's cathedral); Botticelli's "Adoration of the Magi" in the Uffizi (I can still see the look on Joseph's face in that painting, the simple awe of looking at his baby for the first time).
As we walked the streets of uneven bricks in Siena, centuries-old steps of the Basilica of Santa Croce in Florence, or the ancient paths around Assisi, it was what I could feel—or imagined I could feel—that left me wanting to tear open my history books to fill in the blanks in my knowledge. I wanted to take off my shoes and soothe my aching feet on the marble floors of the Duomo in Siena, feel the cold, smooth stone slick from the rainy day, perfectly laid, perfectly polished by laborers gone for centuries. Each floor was like a quilt, with pieces intricately placed, each needing its own space to tell its story. Some told parables. Others covered graves, right there in the cathedral floor. Who were these men beyond the inscriptions, and why were they so important to be here yet so unimportant that many would merely walk over the top of them having never known any better?
I wanted to hear their stories.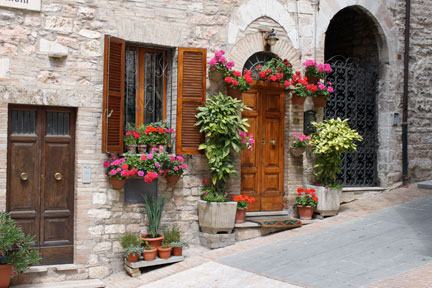 In the
Galleria dell'Accademia
, I wanted to touch the feet of Michelangelo's
David
(which, given the security, I wasn't about to try). I wanted to feel the sanded stone, the ridges of his hands, the veins protruding from the marble. They reminded me of my great-grandmother and the way I used to play with the veins on the backs of her hands when I was a little girl. Now I cherish a photograph of the two of us when I was about Paige's age; she's whispering something into my ear. It was there with David two decades after her passing that I longed for the stories she could have told me if I'd taken time to listen, if I'd had the desire to learn more about her world, my history, my family history.
I wanted to run my hands through the grooves of Mary Magdalene's hair on Donatello's Maddalena, touch the sadness in her face as if it would allow me to somehow better understand her pain. The old wooden sculpture so frail yet the suffering and confusion so real—seeing her Jesus crucified before her and then finding the tomb empty. Having to come to terms with God's promise fulfilled.
I realize it all sounds so romantic. It was! Our first night in Siena, I opened the window to our room and heard a woman belting out opera music at the top of her lungs—like a strategically placed soundtrack for our two-week trek. (Ironically, I later learned she was an American living across the street and studying opera in Siena!)
Bill led us from place to place. He knows these Italian cities as well as I know my hometown. But as intrigued as I was by what he said in front of the art, I hovered close on the journeys in between, too. There was so much to learn in even the simplest conversation.
One particular outing in Siena we shared with only two others. It was "work time," preparing for our picnic feast in the castle, and we wandered (with Bill, even wandering left me catching my breath) from shop to shop—here for bread, there for almond ricciarelli cookies, meat, cheese, and pesto from across the way, apricots, plums, and tomatoes from "only the best produce stand," Bill exclaimed. Wine would be purchased the next day from the town from which it's made and where the castle sits.
I listened intently to Bill and my husband talk just as I had imagined they would. The topic was the well-kept streets and buildings, but the subjects were political science, economics, art, and history. Bill explained that the government enforced guidelines for the colors of the buildings, the size and shape of shutters and windows, which flags could be displayed, and even where laundry could be hung. Bill and David discussed how such a "lack of freedom" might be unacceptable in the U.S., but was accepted in Siena because the regulations keep the city beautiful, which makes it the tourist destination it has become.
Bill shared tales of his time in Siena as a member of his contrada (Siena "neighborhoods" are each represented by an animal), attending the Palio horse race in the Campo, and then he took us on the five-cent tour of his tiny two-bedroom apartment now worth ten times what he paid for it because of its location just off the main square.
David and I had our own conversations—quiet talks that did not include our daughter. And not once were we interrupted by pleas for more ketchup or blueberries. We talked about our next grand adventure and our desire to raise Paige as an informed citizen of the United States and of the world. We roamed the streets with little worry of how close we were to bedtime or whether or not we had enough goldfish crackers. Yet all around us the people of Siena, Florence, and Assisi were living their lives—going to work every day, doing laundry, raising kids, buying groceries, dealing with family. Exactly what we were escaping for the time. Observing them cast even everyday tasks in a new light.
It all came full circle for me during the Challenge of Excellence Kick-off last October. Modern Languages Professor Dan Rogers hit the nail on the head when he said, "We think of travel as a luxury in our culture, unfortunately. Travel is an essential component of education. It's critical for students to see how people confront the same kinds of issues and problems we have here in the United States. How people do it in other countries. Seeing how other cultures address the same kinds of problems and issues that our students, that our culture, that our country is confronting is critical to their education. It's critical to helping them be competitive in the marketplace. It's critical in helping them be good citizens later on."
I keep photos from our trip on my desktop at work and on the walls at home to remind me how little I know, and to inspire me to keep finding ways to learn and grow.
Paige still occasionally shows us drawings in her "Italy Book." My mom describes a day during our absence when she and Paige were playing with chalk on the sidewalk and she drew Paige a picture of Italy so she'd know where we were. I laughed from 4,500 miles away as I read the e-mail from Mom to David, "Paige thought it looked like a sock."
That's not a bad start.
As Paige gets older, my dream is to have a jar of "hopefuls" as we plan our next family trip. We'll pull out a destination, book the rooms, and start studying what we'll find on our explorations—first around the country, then, one day, to other countries as well. We will add pins to our map and photos to our travel wall.
Even after two weeks of studying fresco cycles, revisiting saints and biblical stories time and again, I still can't say I would be able to pass an art history exam or write a religion paper. I took copious notes, but off the top of my head I remember few details of the art, or the names of the churches we visited, or the saints we studied (except for St. Lucy's plate of eyeballs. How can I forget a plate of eyeballs?).
But I cherished Bill's knowledge as he explained the paintings, connecting the dots from panel to panel, painting to painting, cathedral to cathedral, and town to town. I'll never forget being there—the sights, sounds, and smells bringing me to my senses. I'll remember with fondness the late nights I spent on the cold stone floor of the tiny lobby in Siena's Hotel Duomo while I posted photos and entries to the College Web site, my time working in Italy.
I do know one thing. It was the best liberal arts experience I could have had—now that I am finally ready to explore it.