Wild Oats Continues Through Saturday
by Jim Amidon • October 1, 2013
Share:
The Wabash College Theater presents Wild Oats - A Romance of the Old West, which runs nightly at 8 p.m. through Saturday in Ball Theater in the Fine Arts Center. Tickets are free and can be reserved by email or phoning the box office at 765-361-6411.
Wild Oats is a brilliant, over-the-top rewrite of Irish playwright John O'Keefe's 1791 farce penned by James McLure in 1985. The audience is swept from Restoration England to the wild, wild Old West where mayhem unfolds.
Directed by Professor Dwight Watson, this laugh-out-loud romantic comedy is filled with plenty of mistaken identities, conniving landlords, estranged families, and out-of-work actors.
The story follows the hysterical courtship of the quick-witted and strong-willed Kate Thunder (Felicia Santiago) by the egotistical actor Jack Rover (Larry Savoy). Sleazy preacher Ephraim Smooth (Zach Cannon) schemes to claim Kate's inheritance, while Colonel Thunder (Chris McCloskey) and his Irish-Indian scout Crow (Joe Mount) arrange for Kate to marry the Colonel's son, Harry (Noah Eppler).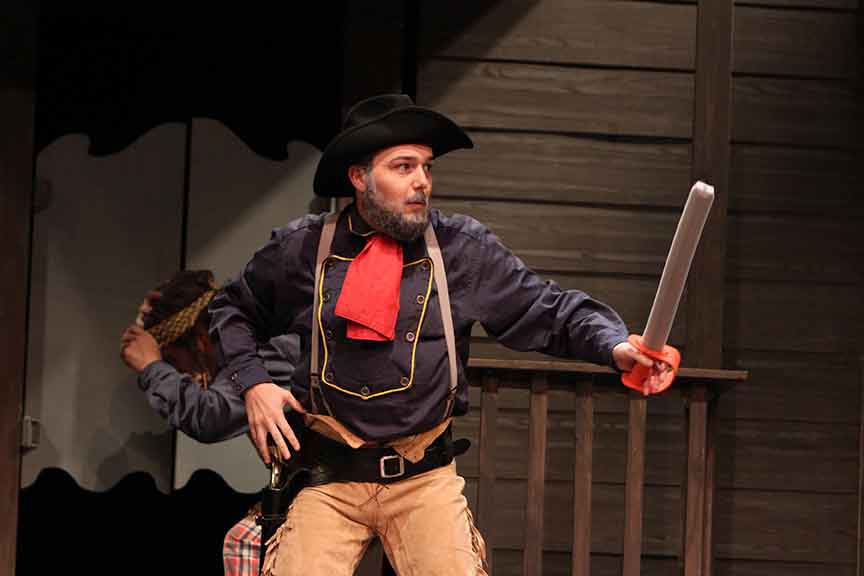 In keeping with a good farce, Kate mistakes the smooth-talking thespian Jack for Harry. And Jack — wanting nothing more than to woo Kate — decides he'll pretend to be Harry.
If that's not rollicking enough, the play features an Old West madam, cactus growers, a damsel in distress, and plenty of desperadoes.
Stage manager Brad Hopper keeps the action moving at a great clip. The Old West scene on the Ball Theater stage was designed by James Gross and constructed by students in his scene design course. Andrea Bear went to extremes to costume the show, including her own costume in the role of "Bear."
The cast of Wild Oats includes: Joe Mount as Corporal Crow, Felicia Santiago as Kate Thunder, Chris McCloskey as Colonel Croftus Thunder, Noah Eppler as Harry Thunder, Larry Savoy as Jack Rover, Edward Pingel as Ike Gammon, Zach Canon as Ephraim Smooth, Corey Egler as Muz, Sammie Amidon as Sim Gammon, Lanie Gleeson as Jane Gammon, Patrick Kvachkoff as Senor Morales, Jamie Ritchie-Watson as Amelia Dolores Morales, Rory Willats as Mr. Kliegle, Ben Cramer as Mr. Leko, Hannah Spirrison as the Madam, Han Nie as the Bartender, Robert Black as the Sheriff, Luis Felipe Hernandez-Blanco as Angel Eyes, Nikolaus Boggs as Wilson, Aaron Stewart-Curet as Liberty, and Andrea Bear as Bear.
More News
---
---
Photo Galleries

Wabash Theater Presents WILD OATS