Johnson '18 Wins 144th Baldwin Oratorical
by Christina Egbert • April 12, 2018
Share:
Ben Johnson '18 will leave Wabash College in just a few weeks, but after a fervent plea to the audience of the 144th Baldwin Oratorical contest, he's hoping his advocacy won't leave with him.
On Wednesday, the four finalists of the contest were asked to respond to the theme "Improving Our Communities" by identifying a problem in their community and advocating a solution.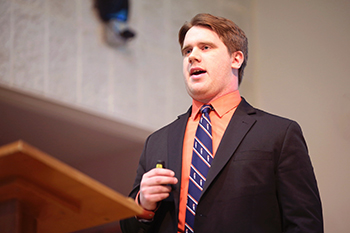 Johnson's passion during his presentation impressed the judges, who awarded him first place for his speech, "Accommodations for the Physically Disabled on Campus." Benjamin Manahan '21 and Joseph Whitaker '19 spoke on possible solutions to the opioid crisis in Montgomery County and came in second and third place, respectively. In fourth place was Gabriel Anguiano '20, who argued about the benefits of a balanced calendar for K-12 students.
"I appreciated that all four finalists addressed serious issues in our community and offered thoughtful solutions and practical actions," Associate Professor of Rhetoric Jennifer Abbott said. "The continuation of this contest affirms Wabash students' persistent willingness to acknowledge problems and seriously deliberate ways to ameliorate them."
The three judges for the evening were: Michael Nossett '11, Deputy General Counsel to Indiana Governor Eric Holcomb; Scott Bowling, Superintendent for the Crawfordsville Community School Corporation; and Jane Christopherson, Montgomery County Court Appointed Special Advocates (CASA) Program Director.
"We chose all three judges because of their important public service and leadership," Abbott said. "They could ably judge the students' civic engagement efforts, and inviting them to judge allowed us to highlight their work and provide models for our students."
Nossett, who was a finalist in the 135th and 136th Baldwin Oratorical contests when he was a student, said Johnson's speech had a "gripping, engaging quality to it."
"The emotion of your speech really shone through," Nossett said to Johnson after presenting him with his award. "If you convey a bunch of information and facts to folks, they may retain some of it. But you drew us all in, gave personal examples, and made us think about a problem we could actually envision ourselves in. That really stuck with us."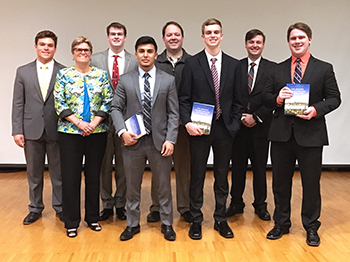 Johnson, who is also a Wabash Democracy and Public Discourse fellow, is putting by his speech to action by working with an underclassman to create a support group for people with disabilities on campus.
"I was just glad to be able to deliver my message to the Wabash community," Johnson said. "This topic is important to me, so, really, winning the Baldwin was just a plus. I was flattered to receive those accolades from the judges, but it was much more important for me to convey an effective message, and I think I accomplished that."
The Wabash College Baldwin Oratorical Contest began in 1873 as a gift from the late D.P. Baldwin, a longtime trustee of the College, endowed an award to be given each year to the three Wabash students who "compose and pronounce the best orations." In its 144th year, the Baldwin Oratorical Contest is the oldest continuous public speaking contest west of the Alleghenies.
Just like on the night of the first contest, the top three finalists received a cash award and the complete works of William Shakespeare.