Wally's Open for Business
by Richard Paige • January 8, 2019
Share:
Wally's, a new restaurant and pub located in the Sparks Center at Wabash College, is officially open for business.
The renovated space in the Fobes Lounge is complete and Wally's is open for appetizers and dinner Thursday through Saturday nights from 4:30 p.m. to 11 p.m. Wally's is also open for lunch and dinner from 11:30 a.m. to 8 p.m. on Sundays.
Wally's will also be open on selected Wednesday nights, including nights when the Wabash basketball team is home – January 9, 16, and 23 – from 4:30 to 7:30 p.m.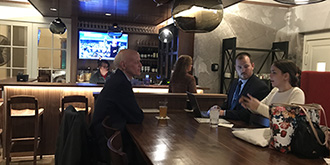 Wally's features five gourmet pizzas from $5 to $8, a range of low-cost appetizers, and weekly sandwich specials.
Chef Jason Anderson created the menu, which has items not available on campus — or in Crawfordsville ­— such as Seasonal Bruschetta, Baked Capriole Farms Goat Cheese, and Truffle-Salted Fries. Specialty pizzas like Fig and Bleu Cheese, Meat Lovers, and Roasted Wild Mushroom and Caramelized Onions are always available.
The dining area is open to persons of all ages, though diners must be 21 to sit at the bar.
Two Wabash alumni-owned brews are on tap — Clay and Omar Robinson's Sun King Sunlight Cream Ale and David Waldman's Triton Railsplitter IPA — along with Stella Artois. Wally's also seven wines available from $4 to $7 per glass, and all are rated 90 points or higher.