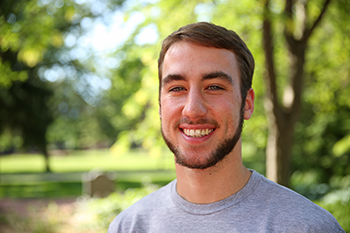 Brady Gossett '19
Major: Philosophy
Minor: German
Hometown: Indianapolis, Indiana
Brady Gossett '19 knew he couldn't say no to Wabash after his first visit to campus, which consisted of a football game with Track and Field Coach Clyde Morgan and a conversation about beards with Associate Professor of History Rick Warner. Now Commencement is six weeks away, and he's about to become the first person in his family to graduate from college.
Q: How did you end up at Wabash?
I got recruited for track at about five or six Division III schools, and one of them was Wabash. I went to a football game, hung out with Coach Morgan, and left that day knowing I couldn't say no to this place. I couldn't say no to Coach Morgan. During all of the phone calls we had, we would talk for an hour, and only about five minutes of it was about track and field. The rest of it was how my family was doing or really random stuff. It was that kind of close, personal feel that I didn't feel with the other schools.
And during that football game—this is really funny—Dr. Warner came up to me for a quick chat. It was just, 'How are you liking Wabash so far?' Well I had a nasty beard in high school, and you know, Dr. Warner's beard is just the best. So we just started talking about that! I don't know why that conversation sticks with me, but it made the place feel like home from the start.
Q: How do you think you've changed from your freshman year to now?
A: I think the biggest change in me—and the biggest thing I've learned here—is how to understand someone else's perspective. I didn't realize that, just by living in a certain area, how that could give me a certain world view. There were things that I thought were concrete, and after I met people from more places and started talking with them, I realized some of the things I thought weren't 100 percent correct. It gave me a different perspective.
I think that understanding would solve a lot of issues in our world today. And maybe it's not that people are unwilling to see another person's position, but maybe they don't know how. They've been taught to believe and think a certain way. At Wabash, you're taught to think in all sorts of ways from all different perspectives—geographically, religiously, politically, etc. I think that saves you from making knee jerk reactions and making decisions without considering another side.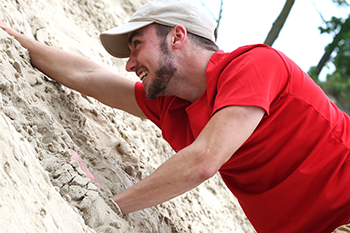 Q: Looking back on your four years here, what are you most proud of?
A: One goal I had coming in was to stay above a 3.0, and I'm really proud that I've been able to do that. I'm also proud that I'm actually going to finish. It's kind of a surreal feeling because I'm the first one in my family who will graduate from college! I thought about that last semester—it had never crossed my mind before, and it feels good. I'm thankful for my parents for pushing me to do it. What they've been able to do—even not having a college degree—that's something I've really looked up to. Watching how hard they've worked to get me in this position, I'm proud of myself for finishing.
Q: Any regrets?
A: One regret is probably not doing Chapel Sing. I wish I would've done that. Chapel Sing has such a long history, and my naïve freshman self thought that it looked too crazy. Now, I realize the meaning behind it and the deep tradition behind it. I wish I would've done it just so I could've said I was a part of it.
I also regret quitting football the way I did. I don't regret not playing it anymore, but there were only three games left in the season. There are going to be times in my life where I'm going to be in a situation where I may not be completely comfortable, so I wish I would've stuck it out. But I've reflected on that, and I want to make sure that doesn't become a habit.
Q: How does it feel knowing that Commencement is only six weeks away?
A: The uncertainty of it all can get a little scary. You get so used to being here. It's gone by so fast. Everyone always says that, but it really feels like I just moved in yesterday, and now I'm on my way out. I'm going to miss things like everyone saying 'Hi' as you walk by. The whole world's not like Wabash, but it's been a great and fun four years here. I've learned a lot, and I'm going to miss this place.
Q: What are you looking forward to most after graduation?
A: I'm definitely excited to be done with school, but I'm also excited to find my purpose in the world. That's kind of a lifelong kind of journey. You can't really know what you're supposed to do with your whole life when you're 22. So I'm excited to try a bunch of different things and see what kind of impact I can make on the world.