'This Is Our Youth' Opens Friday at Fusion 54
• April 24, 2019
Share:
Spend a day in the life of three young people, struggling in their pursuit of adulthood in mid-1980s New York, when Wabash College's Scarlet Masque presents Kenneth Lonergan's blistering, thought-provoking play, This Is Our Youth, April 26-27 at Fusion 54.
Performances are slated for 8:00 p.m. each night. Seats in the third floor Performance Collaborative are exceptionally limited and can be reserved at www.scarletmasque.eventsmart.com/events/this-is-our-youth
Tickets are free, but the producers, directors, and actors are accepting generous free-will donations in honor of the Montgomery County Youth Service Bureau, which works to support at-risk youth in the community.
The play follows three well-to-do, but disillusioned young people in their quest for meaning in their lives. Wabash senior Quinn Cavin plays Dennis, a weed-smoking drug dealer, while junior Austin Ridley plays his battered and beleaguered friend, Warren. Betsy Swift plays Jessica, a confused fashion student wandering through a meaningless existence. Together they hang out, get high, scheme for a big pay day, and begin to recognize the disappointments of their parents.
Directed by Austin Yeomans w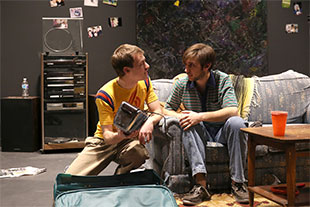 ith helpful stage management by Ian Little, this Scarlet Masque production is intended for adult-ish audiences because of profanity and adult situations; the issues the characters wrestle with are sex, drugs, and money.
This Is Our Youth is a painful yet funny coming-of-age play, last performed by Wabash in 2005, that is perhaps as resonant today as it was when it was first written in 1994. After all, young people today have two choices – engage with the real world or hide from it.
Scarlet Masque is entire student-run, so the actors, directors, producers, and crew all took a leap of faith when deciding to take on such a challenging play.
"It's one thing to audition for a play in the [Theater] department and another to take on a whole play as a student director," Yeomans said. "There's a lot of fear in that. It's a fear that I think is shared with This is Our Youth — the characters figuring out who they are, their relationship with the world, and how they feel about it.
"I think it's funny in a way that we're doing this play now, when we're young and asking ourselves a lot of the same questions. We've had our fair share of laughs, cries, and screams along the way."
And diving in, head first, with other willing students has been a thrill to stage manager Ian Little, as well.
"I came to Wabash because of the ability to do student work and make something that is my own, and This is Our Youth is exactly that," Little said. "When you meet a group of people with that same passion and commitment, working together to create a play, it's hard not to enjoy every step of it. With this play, we are cutting down the safety net and jumping in, with all the fear and excitement that brings."
Scarlet Masque crew members include Mitchell "Ace" Dzeurovick, Audio Technician; Paul Haesemeyer, Costume Designer; Austin Yeomans, Set Designer; and Louis Sinn, Properties Master. Cavin and Sinn are co-producers. The set crew includes Samuel Stephenson, Chukwunalu Chukwuma, and Nick Grujanac.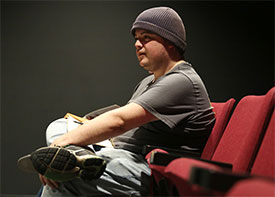 The student collaborators all know one another and have worked on previous Wabash Theater Department productions. That was a huge advantage, Yeomans said.
"We all came in with a certain familiarity with each other and how we worked," Yeomans said. "With a new play, it's really easy at first to feel like you're starting over, but you get in the room with the people and you start trying things, wrestling with the text, and pretty soon the magic starts to happen. Part of me wishes we could stay in rehearsal forever and keep shaking it to The Kinks and tossing a football. But I'm even more excited to share with the Wabash community what we've been working on so tirelessly."
More News
---
---
Photo Galleries

This Is Our Youth - 2 - April 2019

This Is Our Youth - 1 - April 2019