Wabash Gateway Project Begins Construction
by Ryan Horner • June 17, 2019
Share:
The vision for a new "front door" for Wabash College began in 2016 when the City of Crawfordsville began planning its Stellar Communities Downtown Loop Trail project. During that process, the College partnered with the city to reimagine the relationship—and the pathways—between the two.
This week crews began work on the Wabash Gateway Project, which is expected to be completed in October. The goal of the Gateway Project is to provide visitors with a clearer sense of arrival on campus, to improve existing foot traffic pathways, and to more closely link the College and the city.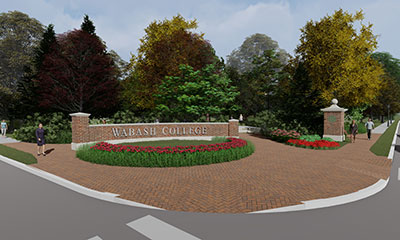 The College has made concerted efforts to improve the look of its main corner at Wabash and Grant avenues, including petitioning the city to remove traffic signals and purchasing aging properties on the three corners surrounding the College's property. A funeral home and two (no longer functioning) churches were razed to provide a longer and more compelling vista when approaching the College from the east and north.
Additional, matching lighting will be installed on the west side of Grant Avenue along the edges of Fuller Arboretum, paralleling the Downtown Loop Trail.
The Downtown Loop Trail will be a paved, landscaped, and lighted 10-foot-wide pedestrian and bike path that connects the College to the downtown. The Trail will begin on the east side of South Grant Avenue in front of the Wabash Fine Arts Center and continue north to Wabash Avenue, then east to Walnut Street, and north to the Fusion 54 building on the corner of Walnut and Main streets.
The Gateway Project has been generously funded by several members of the Board of Trustees, and will be dedicated in honor of Remington A. Johnston III '55.
The gateway will include:
A wall-seat sign with columns on either side, perfect for photos at Ringing-In Saturday, Homecoming, Commencement, and Big Bash.
A brick paver patio area for gathering, photos, and campus tours.
Elegant landscaping with native perennials and trees that will augment the beauty of Fuller Arboretum.
New lighting to accent the columns and seating wall sign, as well as the landscaping.
By grading some of the "hill" from the front corner, visitors will be able to get a glimpse into the Arboretum and the welcoming pathway that leads to the Hays Science Hall, Detchon Center, and Mall.
The city will begin work on the Downtown Loop Trail in September/October, and that work will include ADA-friendly ramps and access points at all intersections along Grant to the corner at Wabash Avenue. The City's project is expected to be completed by early winter (to the Wabash Avenue corner).