Jeremy Robinson '04, an English teacher in Chicago, is among the first 20 recipients of the Noble Network of Charter Schools' Distinguished Teacher program.
Robinson, who is an English teacher and 11th grade team leader at Rauner College Prep, will receive a $10,000 bonus annually for as long as he continues to teach in the Noble Network.
"Being named a Distinguished Teacher has immediately become one of the highlights of my career in education," Robinson said. "In a world that frequently forgets to value the educators that strive, often selflessly, to raise and nurture its children, my status as a Distinguished Teacher unambiguously convinces me that I matter. It shows me, in a very concrete way, that the exceptional work I strive to accomplish with my students is not merely noticed but honored."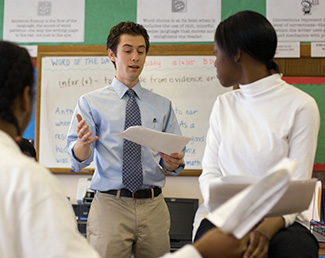 Since graduating from Wabash College with a bachelor's degree in English and Spanish, Robinson became a Rhodes Scholar, earning a master's degree from Oxford University in England and a second master's from Dominican University in Illinois.
Robinson taught for two years through Teach For America before moving to Rauner, where he has served as a teacher representative on the school's leadership team, as well as the director of the school's SAT boot camp.
He spoke of why he loves to teach in an April 3, 2014, Chapel Talk delivered to the Wabash campus. "It requires wisdom to build a well-sequenced curriculum. One that is engaging, relevant, and rigorous. It takes strategic thinking to craft a lesson that meets the needs of all students, especially students who may feel disheartened about their identity as a learner. It takes emotional intelligence to manage a group of diverse individuals with all their varying needs. It takes resilience and more than a little sense of humor to make mistakes publically, as all teachers invariably do, to persevere nonetheless. It takes strength of purpose to stay up late grading assignments or sacrificing a weekend to school work."
Robinson also spoke positively of the daily impacts of a 13-year teaching career, including the last 11 at Rauner.
"Ultimately, the Distinguished Teacher application process helped me see that being an exceptional educator is not the consequence of a single event or moment in time," he said. "Instead, it is the fruit of a daily commitment to excellence in all areas of one's teaching craft that over time produces enduring, positive results."