Wabash College moved up three spots in the Top Tier of National Liberal Arts Colleges ranked by U.S. News & World Report in its annual Best Colleges rankings for 2020, which were released Monday. More than 1,600 colleges and universities were graded in the report.
"We are proud to be recognized by U.S. News as a top liberal arts college," said Wabash President Gregory Hess. "Wabash College has long provided its students with an outstanding and transformative education in an innovative environment that enhances their ability to flourish both in the classroom and in the real world. Our students and recent graduates are proof that Wabash works; rankings like this are a chance to celebrate our good work."
Wabash's rise in the rankings to No. 53 continues a solid climb, as it has improved 12 spots in the U.S. News rankings of National Liberal Arts Colleges in the last two years.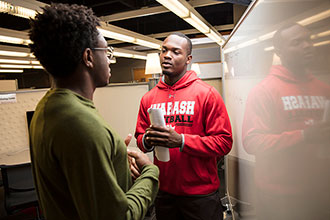 The College was ranked No. 21 nationally by U.S. News as a Best Value School, a measure of both academic quality and cost.
"One of the reasons Wabash is such a quality institution – a feature under-valued in these rankings – is our student-centered nature," said Todd McDorman, Acting Dean of the College and Professor of Rhetoric. "Maximizing the student experience, along with our emphasis on student persistence and success, is our central focus. This is seen in not only in the everyday education provided by our talented faculty and their close relationships with students, but in the robust opportunities Wabash provides in immersion learning courses that take students around the globe, the professional development opportunities students have to apply and expand their classroom education, and our innovative liberal arts plus programs that put students in the community and make a difference in the world. A Wabash education is more impactful than ever and it is gratifying when college rankings such as those provided by U.S. News recognize our high quality."
U.S. News also honored Wabash as an A+ School for B Students, an institution "where spirit and hard work could make all the difference to admissions," according to the publication's criteria.
The U.S. News rankings are based on a weighted breakdown of the following criteria: outcomes (35%), faculty resources (20%), expert opinion (20%), financial resources (10%), student excellence (10%), and alumni giving (5%). Wabash's listed alumni giving rate of 40% places the school in the top-15 liberal arts schools nationally.
These rankings come on the heels of Wabash being named one of the best institutions for undergraduate education by the Princeton Review in its 2020 listing of the top 385 schools nationally, ranking No. 3 for the "Most Accessible Professors" and No. 10 for "Professors Get High Marks."
Further, the College received high marks for "Best Class Experience," "Great Financial Aid," and "Best-Run Colleges" (all No. 13).
The College's Schroeder Center for Career Development garnered exceptional marks for its efforts, ranking No. 2 nationally in "Best Alumni Network" to go with a No. 3 placement for "Best School for Internships," and occupied the fifth spot in the "Best Career Services" listing.
Additionally, Wabash was one of 40 schools nationally included in the bestselling book, Colleges That Change Lives: 40 Schools That Will Change the Way You Think About Colleges.