Six Wabash College degree programs rank among the top-one percent of programs nationwide, as College Factual released its 2020 rankings of U.S. colleges and universities.
With such a strong profile, Wabash ranks among the top 12 percent of more than 1,700 four-year colleges in the United States. College Factual's listings are focused on the different aspects of the education an institution provides, including factors like overall quality, best value, and rankings for specific majors.
In addition, College Factual considers Wabash to be an excellent value, ranking in the top two percent of all schools nationally, citing Wabash as a "Best College for the Money" institution.
Twenty-six Wabash programs were ranked in the top-15 percent nationally, including 16 in the top-five percent. Further, six were tabbed in the top-one percent nationwide for focus, including mathematics and statistics, romance languages, foreign languages and linguistics, history, and mathematics.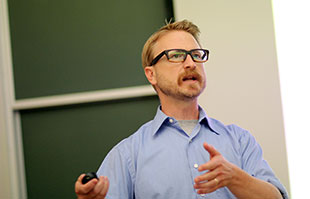 Wabash's mathematics and statistics programs were rated as the nation's most elite, both earning top honors. Mathematics and statistics rated first of 1,250 programs, while mathematics ranked first of 1,111 programs.
"We have worked hard to provide students with a rigorous, yet accessible, curriculum that allows students to focus their efforts toward areas of mathematics that fit their interests and career plans," said Chad Westphal, Professor of Mathematics and Computer Science and Department Chair. "Being recognized as number one nationwide is a real honor, but seeing how the hard work and dedication of our students pays off for them after they leave Wabash is enough to know that we're doing something right."
The Wabash romance languages (Spanish and French) program ranked second of 800 programs nationally, according to College Factual.
Foreign languages and linguistics ranked third among 938 rated nationally. Rigorous immersion learning trips have helped the Wabash faculty build a strong reputation, both on campus and among their peers.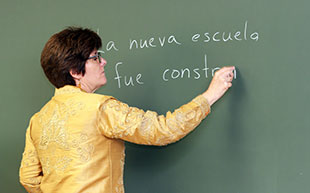 "It's an honor for our programs to be ranked so highly by College Factual, and it's gratifying to know that our work with students is being recognized at the national level," said Jane Hardy, Associate Professor of Spanish and Department Chair. "We strive to provide a rich classroom experience, and we're fortunate to have the resources to extend that learning by traveling with students abroad, where they can experience full language and cultural immersion. We wouldn't have nationally ranked programs if it weren't for our dedicated faculty and hard-working students who are eager to hone their language skills and learn about other cultures."
The College's history department ranked 10th of 1,250 programs across the country.
"At Wabash College we are able to engage our students individually and in small groups, which affords us the opportunity to pursue numerous interactive and innovative programs," said Rick Warner, Associate Professor of History and Department Chair. "The History Department sports a rich tradition in quality research and especially for teaching. It has been a campus leader in immersion learning, and increasingly is involved in local oral history and connections with the local veterans community."