Zachary McKinney '22 was one of 30 first-generation college students honored with a scholarship at the Independent Colleges of Indiana (ICI) at the "Realizing the Dream banquet.
ICI recognizes students from Indiana's private, non-profit colleges and universities who are the first in their families to attend college and are successfully advancing toward degree completion.
"It is an honor to r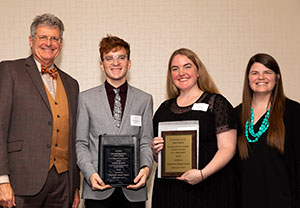 eceive the 'Realizing the Dream' award," said McKinney. "It is small moments like this that remind me to keep working; moments like this show that the hard work pays off. It motivates me to keep working hard in order to be successful and have my future plans come to fruition."
McKinney, a Crawfordsville native who plans to double major in German and English Literature, received a $3,000 award from ICI, which was made possible by a grant from the Lilly Endowment, Inc. Each honoree selected an inspirational teacher or mentor who also received a $1,000 professional development grant. McKinney's inspirational teacher was Emily Race of Crawfordsville Senior High School.
McKinney has distinguished himself through a variety of campus leadership roles and academic achievement. He is president of President of 'shOut, Treasurer of the German Club, and a member of the Wabash cross country and track and field teams.
"Zach embodies the ethos of Wabash as a college that empowers students to define their collegiate experience," said Greg Redding, Acting Dean of Students and an Associate Professor of German. "He is taking full advantage of the opportunities available to him at Wabash, and he is making his mark."
This marks the 30th year that ICI has honored Indiana's first-generation college students with the "Realizing the Dream" banquet.