When Allie Metcalf stepped into the role of Travel Coordinator in January, she had no idea what her first semester of work would throw her way. But her background in the military has come in surprisingly handy.
In her first three months on campus she was forced to the forefront of some difficult conversations. While COVID-19 had just begun emerging as a potential threat in China, at Wabash students were getting started with Spring semester—including immersion courses with trips planned to Beijing, London, Dublin, Rome, and New York City. As the calendar moved forward and the trips inched closer, COVID-19 spread rapidly through China and throughout the world.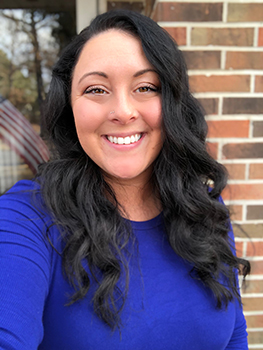 "No one can fully prepare for instances like COVID-19. It is so unpredictable," said Metcalf. "It has been a whirlwind since the day I stepped foot on campus. There is no better way to learn the ins and outs of a new job than to be thrown into the line of fire! It has been a challenging experience, but I feel like it has allowed me to grow. I have learned to be more assertive and confident in my work."
The trip to Beijing scheduled for May was canceled early in the semester. Cases in northern Italy spiked in late February prompting the trip to Rome to be canceled one week out. The Spring Break trips to Dublin and London continued but travel warnings threatened to bring students home early. Ultimately, it was Metcalf's work back on campus that reassured faculty, students, and parents that everyone would get home safely.
"I think I work very well under pressure. My military background trained me to work at any given time day or night," Metcalf said.
And it showed.
"Allie did incredible work in unbelievable circumstances where information was incomplete and constantly changing," said Dean of the College Scott Feller. "She worked late into the night multiple times and in one case literally worked through the night arranging flights. One evening she texted me 'Go to bed, I've got this!' Her confidence, and the confidence I had grown to have in her, made a big difference."
In the Navy, and then later as a government contractor, one of her major roles was arranging travel for contractors and military personnel all over the world. The people she was working with were often countries away. Now she said, "I like to put a face to a name and be able to follow through for each trip, adjusting on the spot as needed."
Metcalf credits the work of those around her and the Wabash community for pulling together in these new circumstances. "We had an excellent group of people to see it through. Every time something new popped up, I had people backing me up. I am forever thankful they were there to assist where I needed it, even if it was just sending words of encouragement. We were all working toward the ultimate goal of keeping our students safe."
Feller wants to make sure credit is given where due. "I feel a little bad about all the messages of gratitude I received from parents letting me know how much they appreciated the work of the College. All that praise should go to the people behind the scenes like Allie."
Even though Spring Break and the immersion trips are behind her, Metcalf is still working diligently with our students—mostly international students and those students studying abroad. "It is such a confusing time for them," she said. "I want to make sure they know we are behind them and give them options while they head to their home countries."
Through the experience, Metcalf has discovered holes to be addressed in the travel planning process. "I want to make things air tight and have no questions unanswered when someone needs to book or rebook a flight."
Overall, she has seen people across the spectrum of her work be as accommodating as possible. "Most airlines and travel agents have been so helpful during this crazy time. Everyone has worked together and tried to make things as smooth as possible for travelers and travel coordinators. Even so, my fingers are crossed we never have to worry about this happening again anytime soon."