I Can Do This
• February 3, 2006
Share: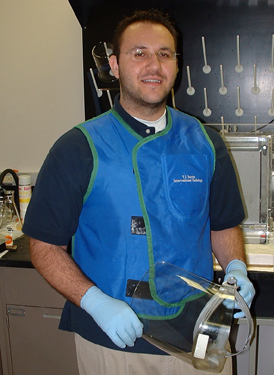 J.J. Anagnostou '07 had wanted to fight cancer ever since the disease killed a high-school friend. Clay Conner '06 felt research might be his vocation and needed a "real world" experience to confirm that belief.
Both men found what they were looking for in the summer internship Anagnostou found for them at the Roudebush VA Hospital in Indianapolis, where the two worked in the lab of Dr. Liang Cheng, director of the Molecular Pathology Laboratory.
"His area of expertise is urologic pathology, he gets million dollar grants, and he publishes constantly," says Anagnostou, who plans to attend medical school and specialize in urology. "I thought I'd learn a lot more at his laboratory."
That learning curve was steep, but nothing the Wabash students couldn't handle.
"I felt well prepared by Professor Polley and our genetics lab—many of these procedures I had done many times" Conner says. "The refined techniques were different, but I knew what was going on."
Though there were eye-opening moments.
"This is the real world," Anagnostou says. "The enzymes cost thousands of dollars, and some of the equipment I hadn't even heard of, like the laser-capture micro dissection instrument—one of only three in the U.S.—that captures the DNA of single cells.
"But the best moment came when Clay and I could tell the guys we were working with, 'Have a seat—we can do the whole procedure. You can take the morning off!'"
"I've found my calling," Conner believes. "I had such a good time this summer, I just want to do research in any field, particularly in neuroscience."
Anagnostou's path to medical school is undeterred, but enriched.
"Before medicine was in the textbooks, it was in the laboratory," says the pre-med student who has also done volunteer work at the Mitera Maternity and Pediatric Hospital in Athens, Greece. "I still want to study medicine and urology, but I'd like to do my own research, too. This summer showed me how fundamental it is to keep in touch with the lab."
After his shift at Roudebush this summer, J.J. did more research at the Indiana University Hospital. Clay Conner finished his work in Indianapolis and assisted in surgery at a clinic in Haiti.
Read more at "The Rest of the Story."