Wabash Day 2008 - NW Indiana
by Scott McEuen '83 • October 14, 2008
Share:
It was a beautiful, fall day here in Northwest Indiana on Saturday, October 11, 2008. The sun was bright, the sky a beautiful dark blue, and temperatures in the high 70's/low 80's. Rich Blastic '82, Kevin Ferguson '96, J.R. Ford '02, Dennis Lewis '80, Scott McEuen '83, David Silva, a church member friend of Timothy Skimina, Timothy Skimina '82, and Gregory Zorich '85 met at the Nazareth Home in East Chicago, across the street from St. Catherine Hospital.
See more photos here.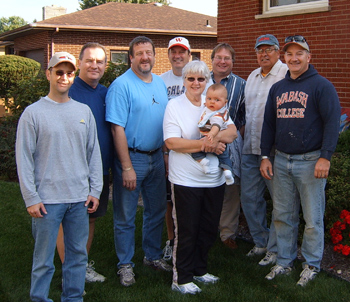 The home is a suburban ranch-style house where children ages newborn to 6, who are medically compromised at birth and born to parents who are unable to emotionally or financially support them, are cared for until foster or adoptive parents can be found. The home's web page can be found at www.nazarethhome.com.
Gregory Zorich '85, who works at St. Catherine Hospital, approached the home's director, Sister Barbara, about selecting the home for the inaugural Wabash Day in Northwest Indiana.
The sister was elated and had several projects on hold due to lack of time or assistance. We spent about 3.5 hours staining a 6' X 12' wooden deck attached to the front of the house, painting the metal hand railing on the front steps, washing windows and screens on the inside and outside of the house, power-washing the siding on the north and east sides of the house, and staining two wooden swing sets in the back yard. Sister Barbara was grateful for the assistance, and we were all very proud that we could offer some help to this noble woman and her wonderful cause. Of course, not only did we work hard during the time we were there, but we also reminisced about our time at Wabash College and the professors who positively impacted our lives!
Afterwards, we spent another 3,5 hours at Casagalardo's Authentic Mexican Restaurant located in renewed downtown East Chicago reminiscing some more. The stories and laughter just kept on coming, and I think I speak for all the Wabash grads that day: our love and respect for Wabash College and the people who work there were refreshed.
We look forward to next year's Wabash Day in Northwest Indiana!