Wabash Day 2008 - Grand Rapids, Mi.
by Jay Fisher '66 • October 14, 2008
Share:
The Grand Rapids project was one of the biggest across the country with approximately 50 volunteers.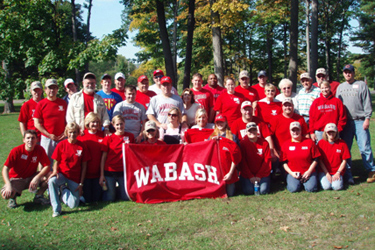 The group worked at the Michigan Veterans facility which has 720 residents. Its grounds are extensive but not being kept up due to lack of maintenance funding by the state of Michigan. The Veterans facility has a nature trail, wheelchair accessable, which had fallen into disrepair.
Wabash Day undertook to clear the trail path, mulch the mile long trail, clean and stain the wooden entrance shelter house along with all wooden recepticles and other wooden structures along the trail, clear and replant perrenials along the entrance area and the rear shelter house, and construct a new shelter house in the middle of the trail to protect those with mobility issues in weather challenges and just as a resting area.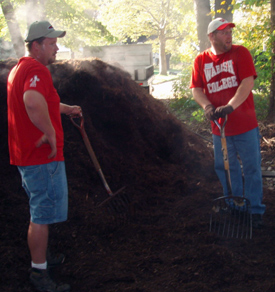 The cost of the project was born by the volunteers who also brougnt the generators, chain saws, rakes, shovels, wheelbarrows, all kind of tools, plants, compressors, nail guns, saws and the like to transform the nature trail into a "wow" aspect of the Vets facility.
The description of "wow" comes from a statement made by a wheelchair bound vet when he wheeled to the back side of the trail, seeing all the improvements along the trail as well as the new shelter house. I am proud of the Wabash alumni and friends here in Grand Rapids. They truly were leaders today. The vets kept coming up and thanking us. It is we who were thanking them. All in all ... a day for Some Little Giants. We celebrated with a picnic for all volunteers and vets who desired to join us ... and they did.
Participants included: Bill Hecker '05, Graham Boyd '00, Kenyatta Brame '01, Kevin Brechting '00, Dr. Tim Conroy '79, Jay Cragwall '69, Jason Farrior '95, Jay Fisher '66 Tom Holmes '01, Jay Huffman '57, Fred Kraft '64, Keith Hefner '94, Alex Manker '01, Bernie Manker '74, Keithg Morgan '97, Justin Vanderiest '06, FOLGs (Friends of little Giants) included: the girls high school basketball team from Kent City (Kevin Brechting '00, is their coach), builder Mat Fahrenkrug and carpenters from general contractor OAK Construction (who gave us the construction assistance to build the shelter house), long-time Wabash friends Nicky Halverson, Scott Kearney, Erin Melcher and her son and daughter, Rick Rankin and wife Ginny, wives and girlfriends along with relatives of the Wabash alumni