Little Giants Take NCAC Indoor T&F Title
by Brent Harris • March 5, 2011
Share:
Wabash claimed its first North Coast Athletic Conference Men's Indoor Track and Field title Saturday afternoon thanks to a solid team effort in Saturday's finals. The Little Giants scored a total of 208 points, snapping Ohio Wesleyan University string of three consecutive conference crowns.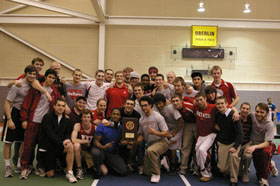 The Little Giants had taken an 11-point lead on Friday evening, but saw Ohio Wesleyan close the gap midway through Saturday's competition.
View photos from the championship meet
here
.
Head Coach Clyde Morgan expected the finish to be tight, and had prepared his team for the tough road ahead.
"I told the guys Monday at practice this meet was going to be like a heavyweight fight. There will be some tough moments, and Ohio Wesleyan will make a run because they are a championship team. We just kept fighting. I've won championships before when I was at Thiel College. Today I watched these guys perform like Wabash men and battle for every point. It goes back to our motto of NBU (Nothing Breaks Us). We just kept battling."
Senior Matt Scheller got the Little Giants off to a good start in the morning field events session, winning his second individual conference title of the meet. He produced the top mark in the weight throw with a winning distance of 16.50 meters (54 feet, 1.75 inches). Scheller's next-to-last throw proved to be the difference, surpassing the top mark of OWU's Jon Rux (16.08 meters). Teammate Alex Moseman earned All-NCAC honors with a third-place finish in the weight throw with a mark of 14.45 meters (47 feet, 5 inches). Scheller (below right) was named the Men's Most Outstanding Field Athlete of the meet after winning the shot put Friday night by setting a new school record with a mark of 15.10 meters (49 feet, 6.50 inches).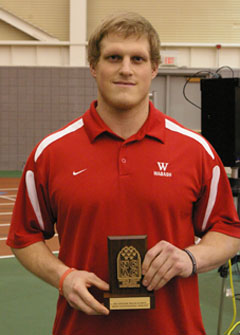 The trio of Jake Waterman, Kevin McCarthy, and Donavan White proved to be too much to handle in the 800-meter run. Waterman claimed the individual title with a winning time of 1:53.07, while McCarthy used a strong finish to take second place with a time of 1:54.03. White added key points to the Wabash total with a sixth-place finish (1:57.75).
"That's where we new we had the title," Morgan said. "We know going in that our three 800 runners were strong and they came through for us. McCarthy was in seventh with a little over 150 meters to go and was fighting the flu.He battled his way up to second to score some big points for us. Donavan dropped down to the 800 and really gutted it out for sixth. It was a great individual performance. Waterman came out of the gate and hammered it like an All-American should."
Another key performer for the Little Giants was sophomore John Haley. Haley earned individual all-conference honors with two third-place finishes in the 200- and 400-meter dashes. He added fourth-place points to the Wabash total in the 55-meter hurdles, and was part of two second-place relays for the Little Giants — the 800- and 1600-meter relays.
Haley took third in the 200 with a time of 22.90. Freshman Sean Hildebrand was eighth in the event with a time of 22.43. Haley's time of 51.10 was also good enough for third in the 400-meter dash, scoring the only points for Wabash in that event. He finished the hurdles in 8.08 to take fourth, trailing teammate Patrick Posthauer who earned All-NCAC honors with a third place finish at 7.98. Billy Rosson was sixth with a time of 8.17.
Haley joined Hildebrand, Chet Riddle, and Vann Hunt in the 800-meter relay, finishing second with a time of 1:31.79. The quartet of Haley (below left), Riddle, James Kervan, and Waterman also grabbed second place in the 1600-meter relay with a time of 3:27.94.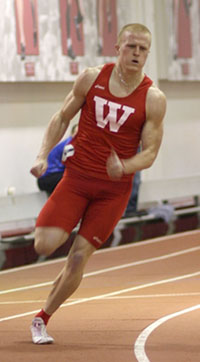 "Haley is just an athlete," Morgan said. "To run the hurdles, the 200, 400, and both relays is just not human. And remember he had to run the prelims in the individual events Friday and then run them again in the finals on Saturday. I asked him to do it earlier this week and he just looked at me and said 'OK Coach.' He just went out and gave us everything he had. It was an unbelievable effort."
Wabash scored major points in the pole vault, as well. Sophomore Matt Knox claimed all-conference honors and the individual title by clearing 4.60 meters (15 feet, 1 inch). Trevor Young also claimed all-conference with a third-place finish by clearing 4.10 meters (13 feet, 5.25 inches). Sam Glowinski scored four points for Wabash with his fifth-place finish (4 meters; 13 feet, 1.50 inches), while Wesley Adams added two points with a seventh-place finish (3.65 meters; 11 feet, 11.75 inches).
Seth Einterz added another All-NCAC award to his collection with a second-place finish in the 3000-meter run. He finished the race in 8:38.01. Teammate Justin Allen scored for the Little Giants with his seventh-place finish (8:51.46). Allen also finished fifth in the mile run (4:20.56), while McCarthy added a seventh-place finish in the event (4:23.98).
Freshman Charles Smothers ran his fastest time of the year in the 55-meter dash, finishing second by crossing the finish line in 6.54, 1/100th of a second behind event winner Ethan Freet from OWU (6.53). Hildebrand took fifth place (6.67), and Hunt was seventh (6.71). Hunt took all-conference honors in the long jump, finishing third with a leap of 6.28 meters (20 feet, 7.25 inches). Posthauer was fifth in the final (6.19 meters; 20 feet, 3.75 inches), and Smothers took seventh place (5.97 meters; 19 feet, 7 inches).
John Bogucki took fourth place in the high jump, clearing 1.84 meters (6 feet, 0.50 inches). Posthauer was fifth (1.81 meters; 5 feet, 11.25 inches), while Devin Kelley took eighth place (1.72 meters; 5 feet, 7.75 inches).
"I've talked to this team throughout the season about being who they are," Morgan said. "We've lost some guys from last year's team. We addressed those issues. I told them you have to come together and believe in each other. This weekend we came together. NBU can get you through adversity. They did that this weekend."
Wabash finished with 208 total points, while Ohio Wesleyan scored 202. Allegheny was a distance third place with 86 points, with the host Oberlin College Yeomen finishing fourth with 85.5 points. Kenyon (40), Denison (35), Wittenberg (31), and Wooster (14.5) completed the team scoring.
Game Stats