Parents
Family Day
It's that time again...time to visit. Wabash for a little mid-semester family time. We love having you visit campus to see your sons and stay for some great weekend activities.
October 19, 2019 - Schedule
Saturday at Wabash: 8:00AM - 5:00PM
Experience the excitement of Wabash College by taking part in our Saturday at Wabash visits this fall. We'll get started with a presentation all about the College, then you'll learn more about life at Wabash via a walking tour and conversations with faculty and students about academic, co-curricular, and social opportunities. Finally, enjoy a tailgate lunch on us followed by complimentary tickets to attend the day's athletic events.
Fine Arts Center: M114 Salter Hall
More information/register
26th Annual Moot Court Competition: 8:30AM - 1:30PM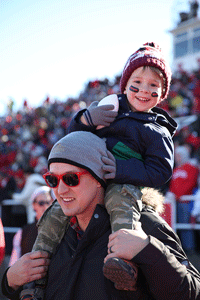 Watch preliminary rounds of the 25th annual Wabash College Moot Court competition. Wabash students engage in legal argumentation with training and support from fellow Wabash Alumni who are now practicing attorneys.
Baxter Hall
More information
Family Day Registration/Check-In: 11:00 a.m. - 1:00 p.m.
Check in with the Alumni and Parent Relations Staff, pick up your buttons and more.
Knowling Fieldhouse, Allen Athletics and Recreation Center
Family Day Tailgate: 11:30am - 1:00 p.m.
Enjoy lunch with your Wabash family before the football game.
Knowling Fieldhouse, Allen Athletics and Recreation Center
Wabash Family Day Photos with Wally: Noon - 1:00 p.m.
Gather everyone for Family Day pictures with Wally
Knowling Fieldhouse, Allen Athletics and Recreation Center
Costume Sale: 10:00AM - 2:00PM
Get ready for Halloween! The Theater Department is selling costumes from past productions at reasonable prices. Come on down and find your Halloween Costume today!
Fine Arts Center: B002 Experimental Theater
Dorktoberfest Student-Alumni Game Day: 12:00PM - 11:00PM
The Dork Club (Wabash Tabletop Gaming Society) welcomes back alumni to connect with students during an afternoon of board gaming.
Hays Science Hall: 002 Classroom
Football vs. Wittenberg: 1:00PM
Hollett Little Giant Stadium
German Club's Oktoberfest
Join the German Club for food and fun to celebrate Oktoberfest immediately following the football team's game vs. Wittenberg!
Sparks Center: West Outdoor Courtyard
COMMUNITY EVENTS
Oak Hill Corn Maze & Tree Farm Fall Festival
Experience the beauty of an Indiana fall and sunset at Oak Hill Tree Farm.
Tickets can be purchased at the gate or online ahead of time. Pumpkins, food vendors, and gift shop items priced separately.
493 Oak Hill Road, Crawfordsville, IN 47933