Student Life
Getting Around
Getting Around the Wabash Campus
Finding your way around the Wabash campus is a breeze once you've been here a time or two. But because most of our buildings don't have signs (or even names!), it can be difficult to figure out where you are — and where you want to go.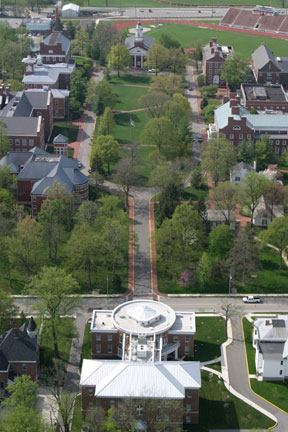 Visitors usually arrive at Trippet Hall on the north side of Wabash Avenue and directly across from the main entrance to campus (at the bottom of the photo). Trippet Hall houses our Admissions and Financial Aid offices, and is the home of the Center of Inquiry in the Liberal Arts. All meetings with Admissions Counselors and virtually all tours start and end at Trippet Hall.
Most of the campus academic buildings form an oval in the middle of campus, which we call the Mall. At the south end of the Mall is the Pioneer Chapel where every student's Wabash career begins and ends — and many Wabash men choose to get married there, too. It's also the place where the College community gathers weekly for informative and inspiration lectures we call Chapel Talks.
On the east side of the Mall are Detchon Center, Hays Science Hall, Center Hall, and Baxter Hall — all are primary academic buildings. On the west side of the Mall is our Historic Corner (where the original campus buildings stand), Lilly Library, Sparks Student Center, and Goodrich Hall.
Just west of Lilly Library is the Malcolm X Institute of Black Studies and Wabash's Allen Athletics and Recreation Center. The Allen Center is the heart of fitness and sport and is surrounded by Byron P. Hollett Little Giant Stadium, Mud Hollow Stadium, J. Owen Huntsman Track, and Wabash Ballpark.
On the far east side of campus, just across Grant Avenue, is our beautiful Fine Arts Center, which houses our art galleries, Ball Theater, and Salter Concert Hall.
Fraternities and residence halls dot the interior and perimeter of campus. Nothing is more than a block or two away.
Use this map to figure out where you are and where you want to go.