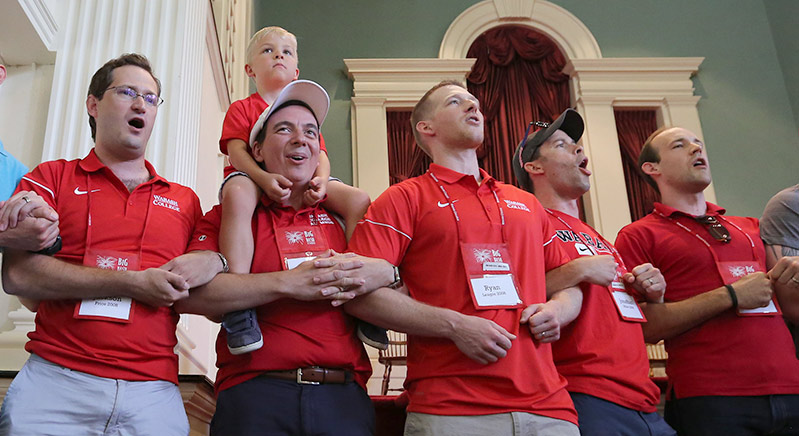 Stay connected to Wabash and the top-ranked Alumni Network in the country!
The National Association of Wabash Men (NAWM) includes all alumni of the College and others who have been accepted for membership by the Board of Directors of the NAWM.
Alumni eServices gives you quick access to the online Alumni Directory. You can also update your contact information directly on the site. The database is updated nightly, so it's your most up-to-date information available within the Wabash network.
Meet other Wabash alumni, parents, and friends by joining a Wabash Regional Association in your area. Follow Wabash on Facebook. Join the Wabash Linkedin group, which is now nearly 14,000 followers strong. Follow us on Twitter.
The NAWM is led by alumni volunteers serving as members of its national Board of Directors and as its Class Agents and Reunion Chairs. One general membership meeting is held annually at the College, usually on Saturday during Homecoming Weekend.
Among its other activities, the NAWM Board awards four Alumni Awards of Merit:
The Frank W. Misch Alumni Distinguished Service Award, presented to an alumnus for devoted service to the College;
The Fredrick J. Urbaska Distinguished Civic Service Award, presented to an alumnus for making outstanding contributions to the community in which he makes his home;
The Clarence A. Jackson Distinguished Career Achievement Award is presented to an alumnus for outstanding service to his chosen vocation; and
The Jeremy R. Wright Young Alumnus Distinguished Service Award, presented to an alumnus within 15 years of his graduation for devoted service to Wabash College, outstanding contributions to his community, or outstanding contributions to his chosen vocation.
The NAWM also selects Honorary Alumni, members of the Wabash College Athletics Hall of Fame, and Alumni Admissions and Career Services Fellows. Begun in 1954, Honorary Alumni recognition is given to men and women who are not alumni of the College but who nonetheless personify the spirit and commitment that sets Wabash, its students, and the Wabash community apart from others. It is the highest honor the Association can give to a non-alumnus.
Membership in the Athletics Hall of Fame is granted to those athletes, coaches, and others for their outstanding athletic achievement and/or service. Alumni Admissions and Career Services Fellows are recognized for making significant contributions to the College by their outstanding service to either student recruitment or career preparation.
In 2016, the NAWM created the Butler-Turner Student-Alumni Engagement Award to recognize members of the Wabash faculty and staff who have made outstanding contributions to the College by distinguishing themselves through the investment of personal time and resources resulting in a significant impact on Wabash students and/or alumni.
Nominate an individual for any of these awards.
Connect with us at:
Alumni & Parent Programs
Hays Alumni Center
P.0. Box 352
Crawfordsville, IN 47933-0352
765-361-6360
email: alumni@wabash.edu