Alumni
Homecoming 2017
Schedule
Thursday, September 21, 2017
11:00 AM – Chapel Sing
Watch as the Class of 2021 participates in this annual rite of passage.
Friday, September 22, 2017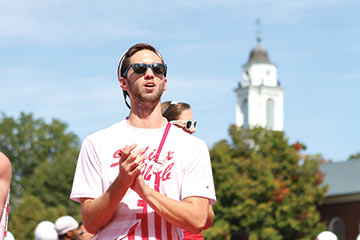 12:00 PM - Faculty/Staff Luncheon, Fobes Lounge, Sparks Center
Join members of Wabash's faculty and staff for an informal luncheon and program. Cost: $5.00, pay at the door.
Saturday, September 23, 2017
10:00 AM – Kane Society President's Reception, Caleb Mills House
11:00 AM – Alumni Chapel, Pioneer Chapel
The annual Homecoming Alumni Chapel, celebrated in the spirit of Barney Hollett '36, represents the general meeting of the National Association of Wabash Men, and the time we honor Wabash men and women for their contributions to the College and their communities.
Alumni Awards To Be Presented:
Jeremy Wright Young Alumnus Award
Fredrick J. Urbaska Civic Service Award
Clarence A. Jackson Career Service Award
Frank W. Misch Alumni Service Award
Honorary Alumni
12:15 PM – Celebrating Leadership Reception, Knowling Fieldhouse, Allen Athletics Center.
Join President Gregory Hess as we celebrate the College's great tradition of philanthropy and those who demonstrated leadership in their support of Wabash students during the most recent year. Reply requested.
2:00 PM – Football vs. Hiram College, Sewell Field, Byron P. Hollett Little Giant Stadium
7:00 PM – Homecoming Concert, Salter Concert Hall, Fine Arts Center
Listen as the Wabash Glee Club presents their latest works as well as some traditional favorites. Glee Club alumni will be invited to the stage to participate in singing Alma Mater.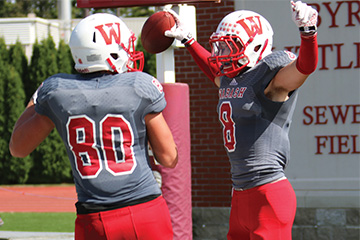 Event is free and open to the public.
*Make time to stop by the Eric Dean Gallery in the Fine Arts Center to see the current exhibition. Gallery Hours: M-F, 9-5 p.m. and Saturdays 10-2 p.m. For more details and for exhibit times visit www.wabash.edu/fineartscalendar.