Career Services
Internships
Internship build your skills and experience throughout your college career. In an internship, students perform substantive work and learn in the field under the direct supervision and monitoring of practicing professionals. All students should take advantage of the opportunity to gain career-related experience. Doing so helps you make decisions regarding career options, and helps you develop contacts in the field as well. In short, you won't know if you like a career until you try it out, and employers and graduate schools strongly value candidates with experience.
---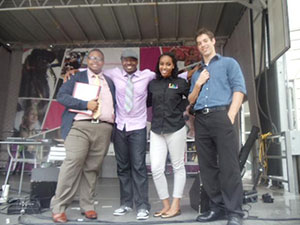 INTERNSHIPS MATTER. 91% of Wabash students with three or more internships are settled at graduation; 63% with no internships are settled. Here are the basics you need to know to get started.
Sources of internships: There are Wabash-funded programs providing dozens of internship opportunities. These are posted, with dozens more from our recruiting partners on Handshake. Thousands more internships are posted online each internship season (see links at the bottom of the page for a start). Many more internships are acquired through word-of-mouth and networking contacts.
Finding internships: You must regularly check WabashWorks and your favorite sites. On most sites, you can build a preferred search so that new opportunities are regularly emailed to you. DO THIS. On the other side of your search, you must be building contacts with alumni and others at organizations and in fields in which you seek an internship. RESUME REFERRALS ACCOUNT FOR A LARGE PORTION OF SUCCESSFUL INTERNSHIP SEARCHES.
When to start: Immediately. You should minimally have your resume ready and cover letter skills mastered so you can jump on any opportunity when it arises. Many highly competitive internships are offered late in the Fall; most internships are posted early Spring semester.
How many to apply for: Apply until you have a firm offer. Do not stop at one or two or ten, and do not make any assumptions about whether you will get anything. Keep applying until you accept an offer.
FREQUENTLY ASKED QUESTIONS
Are Internships Paid?
Some are paid, some are not. Pay depends on the industry, the organization, and often the popularity of the internship. The purpose behind an internship is to provide an experiential opportunity -- the reward comes from that experience and the increase in your marketability.
Some unpaid internships do offer other financial benefits. These might include parking, housing/housing assistance, travel expenses, meals, mileage, etc. Others may offer college credit in lieu of pay. This can be a problem at Wabash however, since we do not provide college credit for internships. If you are interested in an internship opportunity that provides/requires college credit, see us.
Do I Ever Have To Pay For An Internship Experience?
Some internship programs are actually structured learn/work programs that set up experiences for you for a fee. This is fairly common with international internships. Depending on your situation, you may want to consider such programs.
How Long Is An internship?
All Wabash-funded Programs (Lilly, SBIF, Dill, etc.) require at least 8 weeks of work. Other program lengths can vary from 8 weeks to 2 years. Most summer programs average 10 weeks. To be of value and provide the necessary learning, the internship should last at least 8 weeks.
How Do I Choose The Internship That's Right For Me?
If you are in the career decision-making process, choose an internship that will give you a well-rounded picture of that career field. If you have firmly decided on your career path, choose an internship that will give you the greatest amount of experience. If you have identified an employer you'd like to work for, apply for an internship with the organization. Many employers use internships to groom potential full-time hires. When in doubt, always choose internship programs that are structured over those that are not.
Can I Intern As A Freshman?
Yes, but for an internship you'll want to wait until the summer between your freshman and sophomore year. Your freshman year will be packed with academics and involvement, and it will be tough to carve out the time to complete an internship experience while you're in school. For best results, start getting your resume and search plan underway as soon as you begin your studies at Wabash. You can definitely complete a short-term externship during your freshman year.
How Many Internships Should I Complete?
As many as you like. We have graduating seniors every year who have completed 3 or more internships. All students should complete an internship if they plan to compete successfully for postgraduate opportunities.
When Should I Begin Applying For Internships?
Nationally competitive internship programs frequently have fall deadlinesfor internships the following summer. Federal government internship programs (CIA for example) have deadlines as early as November. For local internship programs or those with smaller organizations, it's best to apply in the early spring semester. Application deadlines for all Wabash-funded internship experiences are in early spring. If you wait too long to start preparing and searching, you will miss out on a wealth of excellent opportunities.