Human Resources
Retirement
NEW, May, 2010- ROTH 403 Account,now Available-
A Supplemental Retirement plan allows you to use either post tax or pretax retirement contributions to save for retirement. Pre-tax contributions will reduce your federal income taxes now. Post tax contributions may help you avoid paying higher taxes on your retirement savings in the future.
Please talk with your TIAA-CREF or American Funds advisor to determine which contribution level is right for you.
In either case, TAKE ADVANTAGE OF YOUR PLAN TODAY?
To enroll or increase your contributions (check 2012 SRA pre-tax limits document below), follow these steps:
1. To enroll, ask Human Resources for enrollment information.
2. To increase your contribution, you will need to complete your employer's salary reduction agreement (see link below)
3. Return your completed form(s) to Human Resources.
Also remember to change your beneficiary with your specific carrier after a life changing event.
Elective Deferrals $17,000
Plus, Catch up Contributions (employees over 50) $ 5,500
Addt'l contribution may be available for employees over 50 with 15 years of service $ 3,000 (permission from TIAA or American Funds)
CONTACTS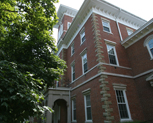 Cathy Metz
Director of Human Resources
765.361.6418
metzc@wabash.edu