Phi Beta Kappa
Prize
Phi Beta Kappa Prize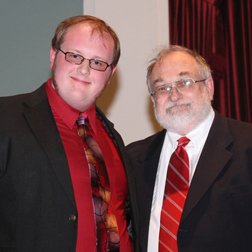 Each year the Wabash Chapter of Phi Beta Kappa awards a prize "to that undergraduate who is judged to have produced the most original and meritorious piece of work, whether artistic or analytical." The terms of the prize specify that it was "established to encourage work of high creative and scholarly merit, as distinct from proficiency in normal course work." Many winners have done their work on their own, in collaboration with a faculty member or another student, or as part of an extracurricular activity. Work completed as part of a course is also eligible, but the committee has usually expected work that transcended normal course requirements. Merely an "A" paper is not sufficient. This prize has been awarded to work as varied as research projects in the sciences or social sciences, collections of poems or paintings, theatrical or musical performances, creation of musical compositions or films, and student journalism. In 2019, we recognized Quinn Cavin for his original film "Rain Dance".
2019 — Quinn Cavin
2018 — William Kelly
2017 — Anthony Douglas, John Janak, Michael Lumpkin, and Macallister Norton
2016 — Thien Minh Quan, Immanuel Mitchell-Sodipe and Ben Cramer
2015 — Aaron Wirthwein and Cameron Dennis
2014 — Joe Mount and Wes Hauser
2013 — Peter Santa Maria and Weston Kitley
2012 — Geoffrey (Gus) McKinney and Tuan Nguyen
2011 — Patrick Stroud (pictured with Professor David Blix) and Michael Trevino
2010 — Jonathan O'Donnell and Mitch Brown
2009 — Spencer Elliott
2008 — Kyle Prifogle
2007 — Ross B. Dillard and Brett T. Gann, Jr.
2006 — Russell D. Harbaugh and William E. Whited
2005 — Justin R. Grimmer
2004 — Michael Bricker