Admissions & Financial Aid
International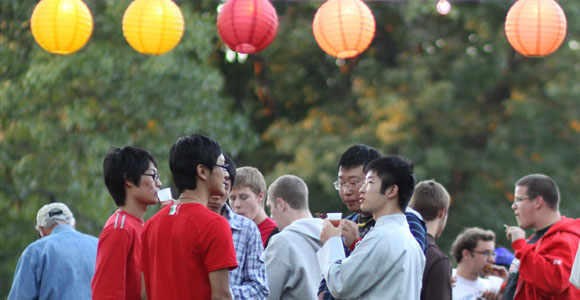 Wabash College has a long tradition of welcoming international students to campus. Approximately 900 men currently attend Wabash with around 60 students representing 17 different countries. Outside the United States, there are approximately 200 alumni living in 54 different countries.
Founded in 1832, Wabash College is a private liberal arts college for men located in Crawfordsville, Indiana. Wabash is dedicated to academic excellence and the development of leadership. The College's mission is to teach men to think critically, act responsibly, lead effectively and live humanely. Wabash challenges its students academically as they build lasting relationships at one of the nation's finest undergraduate colleges.
to apply to wabash college as an international student
1. Fill out either application
2. Submit official copies of academic records
Secondary school transcripts along with the International Secondary School Report completed by your counselor
Most recent standardized test scores (ACT/SAT)
TOEFL, IELTS, or Duolingo scores (not required if English is first language or current language of instruction)
Recommendations from two teachers (optional)
3. Applicants that wish to be considered for need-based financial aid must complete the International Student Financial Aid Application (no fee)
All of the above documents must be on record before an application is considered complete for review.
Admissions Decision
Wabash admits students with a high level of demonstrated intellectual potential and an equally high level of achievement in the most rigorous academic program at their secondary school. The admission decision is made following a thorough and thoughtful review of the student's completed file. Priority consideration for admissions to the College, as well as review for scholarships and need-based award, is given to those students with a complete record on file by February 1. Due to the high volume of applications, admissions decisions will be released by April 1.
Scholarships & financial aid opportunities for international students
Trustee International Scholarships
Two merit-based scholarship awards covering total direct cost of four year attendance, including tuition, fees, and on-campus room and board are offered. Personal health insurance costs are not covered by this scholarship. Trustee scholarship awards are based on character, leadership and academic accomplishment as documented within the admissions application. Awards are renewable up to eight semesters and require satisfactory academic progress. All international students with a complete admissions application on record by February 15, 2019 will be reviewed for the Trustee Scholarship Awards.
Presidential International Scholarships
Merit-based scholarships ranging up to $25,000 per year are offered. All Presidential Scholarships are renewable up to eight semesters and require satisfactory academic progress. Presidential scholarships are awarded based on the overall strength of an applicant's record as documented within the admissions application. Applicants whose families demonstrate the ability to cover cost unmet by Wabash financial assistance will be given additional consideration. Priority is given to students with a complete admissions file on record by February 1, 2019.
Need-Based Financial Aid
Students must provide complete financial information (i.e., savings, investments, salaries, etc.) so that Wabash can best assess the student's financial need. A typical need-based package may consist of a combination of campus employment and a very limited number of grants in addition to any need-based scholarships that may be awarded. Travel expenses and summer expenses will not be covered by an aid award. In order to be considered for admission and financial assistance, all applicants must be able to document the ability to provide for expenses not covered by even our best awards.
Important Web Sites
Wabash College International Students Office: www.wabash.edu/international/
Helpful Sources of Information and Financial Assistance for International Student Applicants www.wabash.edu/international/int_exploring
Contact Information
For general inquiries and application questions please contact:
Admissions Office
Mr. James Quill, Senior Assistant Director of International Admissions
410 West Wabash Avenue
P.O. Box 352
Crawfordsville, IN 47933 USA
quillj@wabash.edu or 765-361-6041
For inquiries about visas and international student life, please contact:
Office of International Students
Ms. Amy R. Weir, Director of International Programs
301 West Wabash Avenue
P.O. Box 352
Crawfordsville, IN 47933 USA
weira@wabash.edu or 765-361-6078
Mr. Quill will be your primary contact while working with the Admissions Office during the application and admissions process.
If you are admitted to Wabash College, it is critical that you contact Ms. Weir immediately following receipt of your letter of Admission so that she can guide you through the VISA process. Ms. Weir will guide you through that entire process and assist you with preparations for arrival in Indiana, International Student Orientation, and throughout your years at Wabash College.
Please follow this link: www.wabash.edu/international to the International Student Office for precise instructions regarding your visa eligibility document (I-20 or DS-2019).