Admissions & Financial Aid
Meet The Staff
Kim King II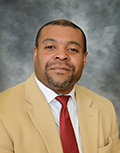 Senior Associate Director of Admissions
Phone: 765-361-6299
Hometown
Muncie, IN
Graduate of
Wabash
Major
Religion
About me
Everytime I watch Jim Valvano's iconic speech at the 1993 ESPY Award Ceremony, I honestly get choked up. But much more important, I genuinely affirm one of the last lines of his speech, "To spend each day with some laughter and some thought, to get your emotions going."
If you have never watch the speech, I urge you to check it out: http://www.huffingtonpost.com/2013/03/04/jimmy-v-speech-video-valvano-espy_n_2806888.html. It barely lasts more than 10 minutes.
Tips for high school seniors
The undergraduate experience should offer a kind a full-contact-sport experience. That is, seniors should search for an institution that will challenge them-- dare I say, break them down. But they should equally expect for that institution to build them back up, to inspire a pursuit of wholeness and professional fulfillment.
What makes Wabash special
... relationship... indeed, the brotherhood.
Wabash Men take each other seriously remarkably well. They push one another-- not to be cut-throat, but simply to get better. The best kind of teach and learning tends to happen in this context, where the process of learning is valued as much as the end in mind.
Territory
Indiana - Hamilton Counties
Florida, Georgia
Illinois - Illinois--Chicago Area--City of Chicago & South/Southwest Suburbs , All Transfer Students
Travel
Schedule
Wabash College Admissions Office
410 West Wabash Avenue
Crawfordsville, IN 47933-0352
1-800-345-5385
1-765-361-6225
email: admissions@wabash.edu