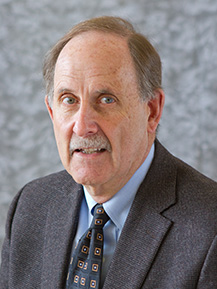 Tobey C. Herzog
PROFESSOR OF ENGLISH EMERITUS
Growing up in a small town in central Illinois (Peru) and lettering in three sports (baseball, basketball, and football) at LaSalle-Peru Township High School, I decided at an early age that I was going to be a professional athlete—probably a catcher for the Chicago White Sox. But dreams don't always materialize. After playing baseball and basketball for one year at Illinois Wesleyan University, I changed my career goal to becoming an English teacher and high school basketball coach, so I served for three years as the junior varsity basketball coach at Illinois Wesleyan. Marriage, two years in the U.S. Army (including one year in the Vietnam War), and a Ph.D. in nineteenth-century British Literature (dissertation on Charles Dickens and Thomas Hardy) once again changed those plans.
I now find myself having just completed 37 years of teaching in the English Department at Wabash—a job that I thoroughly enjoy because of the Wabash traditions, the liberal arts curriculum, and most of all the students. I have also drawn upon my military background in serving 27 years as the Faculty Marshal (the person in the big scarlet cap who leads the graduation procession) and in teaching and publishing (three books and numerous articles) in the field of American literature about the Vietnam War, especially the works of soldier-author Tim O'Brien. I also regularly conduct business writing workshops for companies and leadership training programs. And that goal of becoming a professional athlete—well, I do play in the NBA (Wabash's Noontime Basketball Association); dreams do come true.
EDUCATION
B.A. in English, Illinois Wesleyan University
M.A. and Ph.D. in English, Purdue University
RECENT COURSE OFFERINGS
English 101: Freshman Composition
English 411: Business and Technical Writing
English 217: Restoration and 18th-Century British Literature
English 218: Nineteenth-Century British Literature
English 106: Introduction to the Short Story
English 330: Introduction to Modern War Literature
English 497: Senior Seminar: Classics in Vietnam War Literature
RESEARCH
As noted above, my research focuses on American literature about the Vietnam War and written by American Vietnam veterans-authors. In addition to the three books published in this field, I am currently working on a fourth that will be a collection of essays written by me about the life and works of Tim O'Brien (author of Going After Cacciato and The Things They Carried).
RECENT PRESENTATIONS
"Russ Meyer, Soft-Porn, Baseball, Coming of Age," Presentation for Wabash's "Wally at Bat: A Liberal Arts Symposium on Baseball," March 26-27, 2010.
"'The River of Nam' and 'The River of Life': Caputo, Heinemann, O'Brien, and Butler Discuss Those Confluent Rivers in Their Writing." Paper delivered at the Popular Culture Association/American Culture Association National Convention, San Francisco, CA. March 2008.
RECENT PUBLICATIONS
"Critical Angles: Reading Soldier-Author Tim O'Brien and Going After Cacciato." Approaches to Teaching the Works of Tim O'Brien. Eds. Alex Vernon & Cathy Calloway. New York: Modern Language Association, 2010. 171-78.
Writing Vietnam, Writing Life: Caputo, Heinemann, O'Brien, Butler. University of Iowa Press, 2008.
Tim O'Brien. New York/London: Twayne (Simon & Schuster Macmillan), 1997.
Vietnam War Stories: Innocence Lost. New York/London: Routledge, 1992.
HONORS AND AWARDS
Wabash College Honorary Alumnus, October 2011.
Inaugural Recipient of the Anne and Andrew T. Ford Chair in the Liberal Arts, September 2010
"Wabash Man of the Year," National Association of Wabash Men, Western Pennsylvania Alumni Group, April 2005.
Wabash Sphinx Club "Outstanding Professor" (2001-02).
Lafollette Lecturer (2000), Wabash College.
Wabash McLain-McTurnan-Arnold Teaching Award (1992).
Wabash McLain-McTurnan-Arnold Research Scholar (1988-1989).
Illinois Wesleyan University "1981 Outstanding Young Alumnus, Award."
1969 (November)-1970 (November): Personnel Specialist, U.S. Army Vietnam—Long Binh, Vietnam (Bronze Star for Meritorious Achievement).
1969 (April)-1969 (November): Congressional Liaison—U.S. Army, Fort Gordon, GA (Army Commendation Medal).