Philosophy AT
WABASH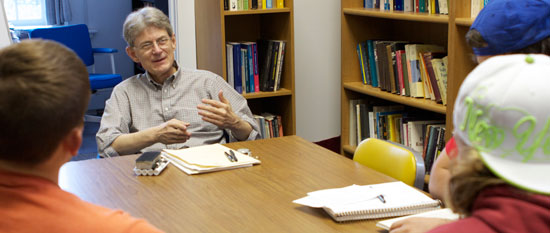 The department prepares students for life, for graduate study in philosophy, and for careers in many fields. The Wabash College philosophy department has a program that offers both many entry points to the study of philosophy and advanced work in small seminars.
The faculty represents a diversity of viewpoints and work to help students develop their own skills and points of view. A variety of classes at both introductory and more advanced levels provide opportunities for students to pursue their own interests.
Most of our courses are historically oriented, with an emphasis on looking at philosophical arguments. Students grow familiar with the classic texts of the Western philosophical tradition as they develop their own skills in reading difficult texts, writing, and thinking about philosophical issues.
A copy of our current newsletter can be found here.
A PHILOSOPHY MAJOR CAN OPEN THE DOOR TO MANY DIFFERENT CAREER OPPORTUNITIES. Here are career paths pursued by recent graduates: Business Development, Product Strategy Analyst, Law Clerk, Annual Giving Officer, General Manager, Attorney, HS Teacher, Fine Art Consultant, Mortgage Broker, Special Forces, Marketing Director, Chief Technology Officer, Account Associate, Rafting Guide, Real Estate & Development, Shareholder, College Residence Director, Patent Portfolio Manager, Senior Program Manager, Head Chef, Outside Sales Consultant, DOD Staff Accountant, Client Relationship Manager.